Hispanic Heritage Month offers an opportunity to celebrate the culture and contributions of Hispanic and Latinx people and to highlight issues they face today. It runs from Sept. 15 through Oct. 15 every year, recognizing the achievements of what is now the largest minority group in the U.S.
"Hispanic Heritage Month is very important," said Dr. Felix Valbuena, Jr., a family practice physician who is also the CEO of the Community Health and Social Services (CHASS) Center in Detroit. "It gives us a venue to share our experiences and share our culture and everything that goes along with that."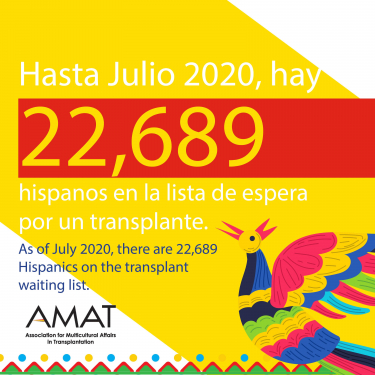 It also provides an opportunity to talk about community health and issues facing people in the Latinx community. Like other minority populations, Latinx people are more likely to develop cardiovascular disease, diabetes and obesity – chronic conditions that can ultimately lead to organ failure and the need for an organ transplant. Minorities, in general, make up a large portion of the people on the national waiting list: of the 112,000 people currently waiting for a new organ across the U.S., about 60 percent are minorities. There are about 22,000 Hispanics waiting for a life-saving gift; last year about 17 percent of organ recipients were Latinx.
Gift of Life Michigan has teamed up with CHASS and other organizations to help reduce that number by encouraging minorities to sign up on the Michigan Organ Donor Registry, breaking down some common misconceptions about the process and by encouraging them to lead healthier lives.
"Our goal is not to get people prepared for a transplant," Dr. Valbuena said. "Our goal is to get people healthy and control that chronic disease so that they don't end up in kidney failure that would lead to dialysis or transplant."
It's not always an easy conversation to have. In addition to common concerns like a distrust of the process and belief that medical professionals will not work as hard to save patients who are registered organ donors, Latinx people sometimes face a language barrier, insurance and other issues.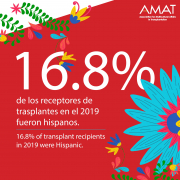 Let's Talk, Gift of Life's multicultural outreach initiative, was designed to foster those types of conversations in the community. By partnering with leaders in the community and encouraging people to share their stories, the hope is to build up levels of trust and empower people to make positive changes in their lives.
Dr. Valbuena suggests three courses of action: vote, if you are able to; fill out and return your census forms – it can bring millions of dollars into the community and help fund federally qualified health centers like CHASS, regardless of immigration status – and talk to your peers.
"We only progress as a community when you're actively engaged in your health and your education and continuing to learn," he said. "Reach out to your medical provider; reach out to leaders in the community and ask the questions."
You can find more information about National Hispanic Heritage Month here and some additional statistics and graphics to share here.