What is the Campus Challenge?
The Gift of Life Michigan Campus Challenge gives school rivalries and competitive spirit a new purpose by saving and healing lives. The program is simple, easy and free. In the past 19 years, college students across the state have inspired more than 40,000 people to join the Michigan Organ Donor Registry.
During the five-week Gift of Life Michigan Campus Challenge, colleges and universities compete to see which school can sign up the most people to donate life.
Students, faculty and staff participate in the Campus Challenge through social media posts, newsletter articles, radio/TV interviews, etc.
Each participating school gets free digital resources.
Each school receives a unique link to the donor registry and receives a point every time someone uses that link to sign up as an organ donor. Scores are shown in real time on Gift of Life Michigan's website.
Trophies are awarded to the top three schools -- the school that recruits the most new donors, the school that signs up the most new donors as a percentage of its student population, and the school that earns the most activity points.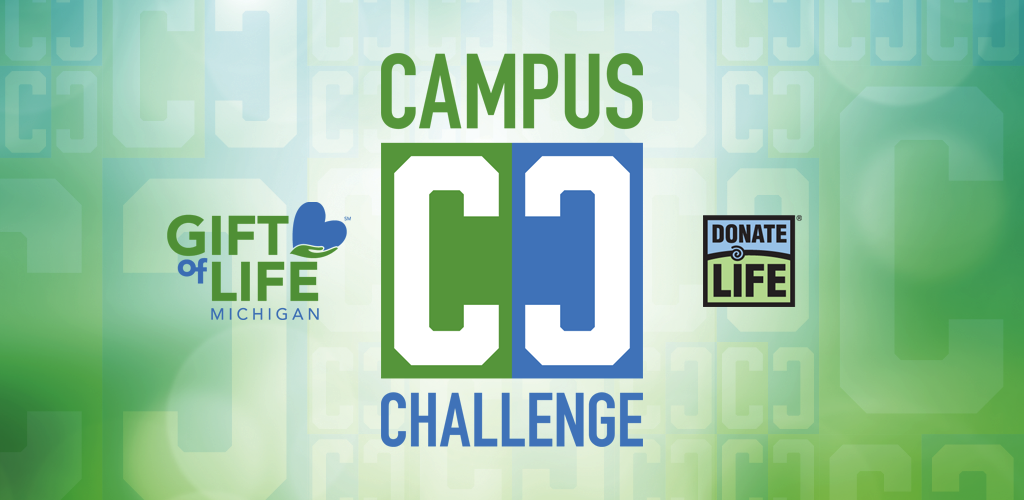 How do I join the Campus Challenge?
If you would like to join the Campus Challenge, simply complete this form.
Gift of Life Michigan provides posters, social media shareables, a press release, sample talking points, and everything you need for running a campus challenge, virtually or otherwise, at your school.
Our staff can even provide short training sessions on the organ donation process to inspire and educate your campus supporters!
The Campus Challenge takes place in January and February, and schools can register to join before or during the event, although registering in the beginning gives you more time to sign up students and work on winning that trophy!
If you missed the Campus Challenge, you can still hold an organ donor registration drive. Contact Taneisha Carswell at [email protected] for more information.