Faith, family and culture play a large role in the decision to become an organ and tissue donor among the Latinx community. We launched Let's Talk to reach out to those communities, where people are more likely to need an organ transplant, yet less likely to sign up as donors. We talked with people in the community and in faith centers and encouraged them to share their stories, to break down misconceptions, to address myths and to encourage their neighbors, families and friends to sign up as donors.
In the U.S., there are about 110,000 people waiting for a life-saving organ, and about 60 percent of them represent racial and ethnic minorities. In Michigan, it's about half the patients on the waiting list. This is a discussion that can save lives.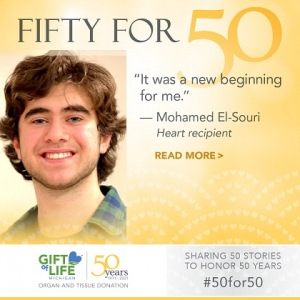 Sometimes, life throws you a curveball. Mohamed El-Souri knows this better than most people. The 18-year-old Dearborn resident was a healthy, active teen who fell very ill while he was in high school. Doctors initially diagnosed him with pneumonia, but it turned out there was nothing wrong with his lungs – his heart was failing and he needed a new one.
via social media
#LetsTalk #DonateLife #GiftofLifeMich
how you feel about organ and tissue donation, at home and online.
about organ and tissue donation from people in your community.
A single organ donor can save as many as eight lives. A tissue donor can help heal up to 75 others.