Encourage elected officials to support donation-friendly legislation
Gov. Whitmer signs bill to add Organ Donor Registry question to state income tax forms in 2024
CHECK YOUR HEART ACT IS THE FIRST OF ITS KIND IN THE NATION.
Groundbreaking legislation to bolster the Michigan Organ Donor Registry became law this summer with Gov. Gretchen Whitmer's signature on the Check Your Heart Act, clearing the way for residents to sign up on their state income tax forms next year.
The Department of Treasury will process donor registrations with the Michigan Department of State. Those who register will then be able to have the red donor heart icon on their driver's license or state ID.
"We hope that adding this unique and easy way for residents to document their decision to save and improve lives will help grow the Donor Registry," said Dorrie Dils, president and CEO of Gift of Life Michigan, the nonprofit organization that facilitates organ and tissue donation for the state. "The Donor Registry has struggled some since the COVID-19 pandemic for a host of reasons. We're so hopeful residents will check the box as they file their taxes in the spring."
If you already have the red heart insignia on your driver's license or state ID, there's no need to register again, although there is no harm in doing so. Residents can still register at a Secretary of State branch office in person or on the state's website.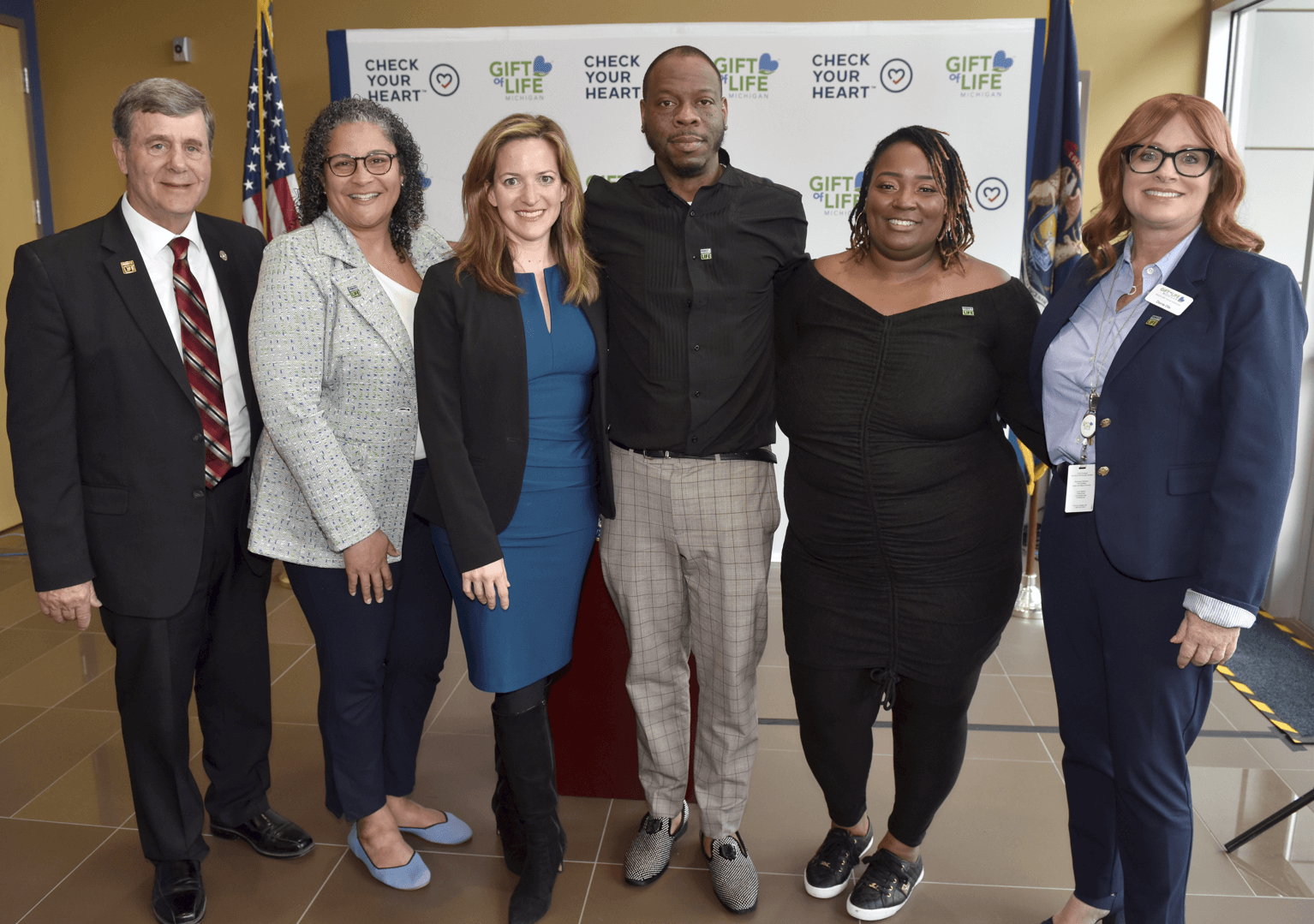 Washington, D.C. briefing educates Michigan's congressional staffers
Gift of Life hosted a May briefing in Washington, D.C. for health policy and legislative staff from Michigan's Congressional delegation on issues facing this organ donation program and others nationwide.
The goal: Educate policymakers on the growth and success of Gift of Life and correct misinformation about organ procurement organizations (OPOs). Critics portray the nation's system as failing. Until no one dies waiting for an organ, Gift of Life and other OPOs agree that the system needs to improve. However, the U.S. organ donation system is ranked first in the world and is not failing.
Lansing's Rachel Kuntzsch traveled with Gift of Life and told legislators the story of her heart transplant that came just in time to save her life in 2018. Her donor was a 33-year-old man.
The briefing provided facts such as:
Critics claim that the nation's growth in organ donation isn't attributed to OPO success, but because of the opioid crisis. That's not true. Over the past five years, organ donation has grown in the U.S. by 39%, and drug-related deaths accounted for just 6% of the surge. In Michigan, referrals to Gift of Life due to drug-related deaths have decreased, while investments in new technology, better processes, and more staffing have led to record-breaking growth and lives saved.

Another false claim: Organs are lost more frequently than luggage. Gift of Life has never lost an organ en route to transplant centers and all organs are tracked during transportation.
Gift of Life is concerned about how new regulations may lead to disruptions in the system instead of improvements and bring in for-profit companies that could erode public trust in a system based on altruism.
Governor signs law to protect against discrimination in transplantation
Gift of Life Michigan applauds Gov. Gretchen Whitmer for signing HB 4762 into law. We thank Rep. Bronna Kahle for sponsoring this legislation that will protect those seeking an organ transplant against discrimination based on physical or mental disability. Last year, the Michigan Legislature approved the measure and the governor signed it into law on Dec. 22, 2022.
Legislation that encourages family doctors to educate about organ and tissue donation is reintroduced.

On Feb. 1, 2023, the Patient's Access to Donor Registry Information (PADRI) bill was reintroduced in the House of Representatives in April. HB 4060 will help Michigan family doctors and urgent care centers provide patients with information about organ, tissue, and bone marrow donation. The bipartisan effort is supported by Gift of Life Michigan.

Gift of Life Michigan calls for action – Michigan Organ Donor Registry is growing at the slowest pace since its founding
More than 90% of all registrations come from the Michigan Department of State (MDOS) asking the donor registration question when IDs and driver's licenses are renewed. We thank MDOS for its years of commitment and support. But office visit changes due to COVID and the shift to fewer and more online transactions have had an unintended negative consequence on the Donor Registry. It's now growing at its slowest pace since its inception in 1994.
Governor signs HOPE Act into law
Legislation signed into law in December 2021 enables organs from HIV-positive donors to be transplanted into HIV-positive patients. Prior to this legislation, Gift of Life Michigan could recover these organs but had to send them out of Michigan.
Congressional Committee's report from NASEM calls for a review of the transplant system
At Gift of Life Michigan, we agree that reform is needed to save more lives. The congressional committee looking at Organ Procurement Organizations (OPOs) commissioned a report from the National Academy of Science Engineering and Medicine (NASEM). The NASEM report called for continuous improvement, not just with OPOs, but system-wide to maximize organ donation and transplant potential in our nation. We couldn't agree more. From the start of this process, Gift of Life Michigan advocated for a system-wide approach that would not only look at OPOs, but also transplant centers, hospital partners, and United Network for Organ Sharing (UNOS). We agree that no patient should die waiting for an organ transplant and more is needed to make sure that does not happen.
NASEM report highlights:
They recommended that all OPOs build a "donor care center," which Gift of Life Michigan already has.
They asked that CMS remove financial barriers from transplant hospitals to move donors to care centers, which we agree with.
They want OPOs held accountable for not responding to referrals on-site. Gift of Life Michigan is increasing staff to ensure that we are present to facilitate all possible cases in Michigan.
They set a metric that all OPOs should be at 45% of their donors from donation by circulatory death (DCD) – Gift of Life Michigan is in the top five OPOs for DCDs.
They want to decrease the number of organs rejected. Currently, 25% of kidneys that OPOs recover are declined by transplant programs. They recommend a rejection rate of 5%.
They called for more transparency from transplant centers and the fact that nearly all patients who linger on the list have received many offers that were declined. They want the patient to be more informed and involved in accepting an organ. They also specifically rebuked declines in transplants on the weekends.
Partnership with HBCUs to address inequity
The racial inequity in the transplantation system is of great concern to us all. Gift of Life Michigan, through its participation with the Association of Organ Procurement Organizations (AOPO) and in the Organ Donation Advocacy Group (ODAG), has partnered with the Consortium of HBCU Medical Schools to increase the number of Black Americans registered as organ donors and to combat disparities in transplantation.
Gift of Life Michigan has been committed to reaching communities of color and is investing even more resources this year. For decades, we have been contributing to an overall 203% increase in Black donors in the past 20 years in the U.S., compared to a 103% increase in white donors during the same period. As NASEM notes, healthcare disparities are a systemic issue, and we continue to work with our transplant partners to improve access.  
Myth: Medical staff won't work as hard to save you if you're a registered donor.
Fact:  When a patient arrives at the hospital, the number one priority is to save their life. Doctors and other medical personnel have both a moral and legal obligation to give their patients the best care possible. Organ donation is not considered until every effort to save the patient's life has been exhausted.