The decision to be a donor is an altruistic and compassionate act.
We encourage everyone to register, including members of the LGBTQ+ community.
The eligibility question comes up most frequently regarding sexually-active gay men or others who may have been told that they cannot donate blood products. The criteria used to determine which organs can be donated is based on a person's medical condition at the time of death, and are not the same criteria used to determine who can donate blood.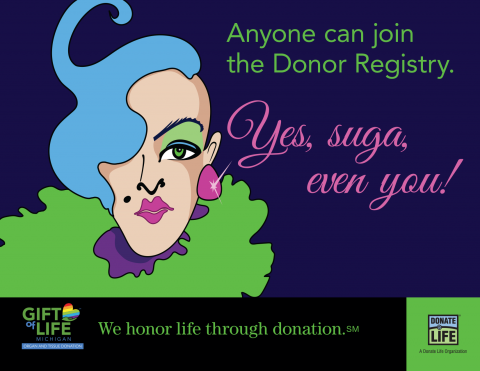 Eye and tissue donation (bone, skin, heart valves, etc.) are regulated by the Food and Drug Association (FDA), just like blood donation.
The FDA currently has a male-to-male sex deferral policy which could prevent a man who has been sexually active with a man in the past 12 months from donating his tissues or corneas. Gift of Life Michigan is required to follow FDA policy when facilitating tissue donation.
However, organ donation is not regulated by the FDA, it is regulated by the U.S. Department of Health and Human Services (HHS); therefore men who have had sex with men are not banned from organ donation.
Likewise, a person's sexual orientation, gender, gender identity or expression have no determination over whether they receive an organ transplant. Anyone can receive a transplant who needs one as long as they are evaluated by a transplant center and determined to be fit to go through the transplant process and take good care of their lifesaving organ after their transplant.
About the HIV Organ Policy Equity (HOPE) Act
The HIV Organ Policy Equity (HOPE) Act, which was signed into law by President Obama in 2013, allows for HIV-to-HIV organ transplantation. As of 2020, nearly 200 people living with HIV have received lifesaving organ transplants from donors living with HIV thanks to the HOPE Act. 
The HOPE Act not only allows deceased donors who had been living with HIV to give the gift of life, it is now possible for people living with HIV to donate their kidney or a portion of their liver

 

as a living donor

 

to people on the national transplant waiting list who are also living with HIV and waiting for a life-saving organ transplant.
Through medical advances in transplantation, more people are eligible to be organ donors today than ever before. Organ donors who are living with HIV or Hepatitis C or B can save the life of someone on the list who is also positive for the same treatable condition.