Contribute to the Gift of Life Foundation
Change Lives with a Tax Deductible Donation
As good stewards of public support, we manage our costs vigilantly, to increase resources that will support grants to the community and transplant centers. We provide grants of financial assistance to transplant centers, post-transplant recipients and waiting candidates to help with financial challenges and transplant successes.
We promote the cause of organ and tissue donation and transplantation in the community by funding public and professional education efforts.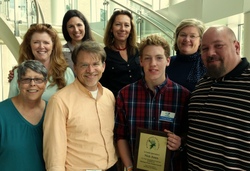 Foundation Supporter
Nick Jones
Nick Jones of Petoskey, Michigan traveled with his father Matt (living kidney donor) to the Gift of Life Michigan headquarters to present money raised for the Gift of Life Foundation, Michigan Donor Family Council and the Alliance for Paired Donation. As part of a high school civics project, Nick organized a 5K Color Run to promote organ donation.
You can also complete our PDF form and contribute via mailed check. Make check payable to: Gift of Life Foundation. Please send with completed form to:

Gift of Life Foundation
3861 Research Park Drive
Ann Arbor, MI 48108
If you are in need of a supply of contribution envelopes for a memorial service please call: 1-866-500-5801 x1350 (direct line: 734-922-1350)
Your contribution to the Gift of Life Foundation is fully deductible to the extent of IRS regulations.
EIN # 23-7260865