May 31 will be recognized as Amaia Alysse Edmond Day after unanimous council vote
The legacy of a young girl from the Lansing community who donated her organs will live on, after the Lansing City Council named a day in her honor.
Beginning in 2022, May 31 will be officially known as Amaia Alysse Edmond Day, in honor a 7-year-old whose gifts saved five lives after hers was tragically cut short.
"I'm so extremely grateful," said John Edmund, Amaia's father. "I want everyone to realize how important it is to donate. Consider the Gift of Life. There are so many people out there in need and this is such a beautiful way to give back."
Councilwoman Patricia Spitzley drafted the resolution, which was approved unanimously by the full council earlier this year. She said she hoped it would help put the spotlight on the need for people to sign up as organ donors, and the good donation can do.
"This is such an important issue," she said. "Donation provides hope for other people."
Lansing Mayor Andy Schor agreed. He said he appreciated Spitzley bringing it to the council's attention, and suggesting it become a perpetual honor.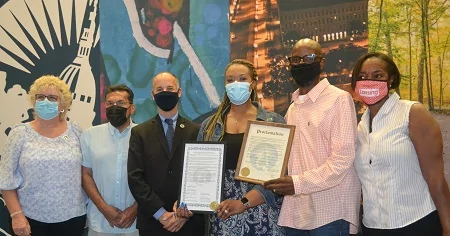 "This is not a political issue; this is something I'm proud to be part of," he said. "This is so important. What John did, in his time of grief and need, was to say 'I'm going to help others.' It's so admirable."
Amaia Edmund was killed during a home invasion in 2011. Her father said his decision to donate her organs was inspired by his faith, and Amaia's desire – even at that young age – to help others. He has since corresponded with and met the recipients of her gifts. He has also coordinated several events to speak out against violence in the community, build better relationships between the citizens and police department, and advocate for organ and tissue donation.
"Amaia loved to help people, always. In the Edmund family, that's what we do," he said.
Schor, a registered donor, said he also hoped the resolution would spark conversation about organ and tissue donation.
"I cannot encourage people enough to be an organ donor," he said. "God forbid, if something happens, you want to make sure someone else can live. It's an easy way to save lives, and we all need to do it."