William Wayne McGee IV was known by several nicknames, including 'Ugg,' and 'Fat Daddy.' His mother, and at least one of the people he saved when his life was tragically cut short at the age of 33, have another nickname for him, too: 'God's Gift.'
"He had a heart of gold. He wanted everyone to have fun and live life," said his mother, Angela Shelton-Manley. "He never wanted any problems. He was a peaceful man. He was a peacemaker."
McGee was with a group of friends in December 2015, when an armed man pulled a gun and attempted to rob one of them. McGee tried to intercede and was shot during the scuffle. He never regained consciousness, but was able to donate his organs – his final act of generosity saved four lives, including Robert Blackwell of Livonia, who received both lungs.
Blackwell had been living with reduced lung capacity for almost 20 years. Due to blisters on his lungs, he had lung reduction surgery on his left lung in 1995 and his right lung in 1997. He still maintained his job at the Ford Motor Company Transmission Plant in Livonia, although his breathing steadily declined. He was forced to go on oxygen 24/7 in 2008.
Even then, Blackwell said he didn't let his poor health slow him down. He continued to work at Ford and around the house, carrying his oxygen tank with him everywhere he went. He was put on the organ transplant waiting list in 2008, given a beeper and told he shouldn't travel more than four hours away from his home. His life essentially on hold, Blackwell said he tried to meet the challenge with grace and humor – he even pranked his wife, Cherie, by calling that beeper on every April Fool's Day for nearly eight years.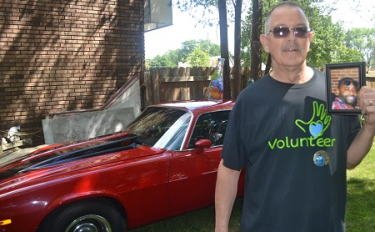 Eventually, his declining health wore him down. In 2014, he decided he could no longer take his beloved 1966 GTO to classic car shows because the four-on-the-floor transmission was too difficult for him to shift.
"I was to the point where I couldn't do anything," said Blackwell, now 65. "I told my wife: 'I'm done. I'm not going to go to rehab. I'm not going to go to any family functions. I am just going to sit here.' I was just spent.
"I pushed myself and pushed myself, but I never thought I'd get to the point where I gave up," he added. "I turned it over to God's hands. Lo and behold, a month later we got the call. It's crazy how it works."
That was December, 2015. Blackwell said he thought it was fate that brought his and McGee's families together. Four hospitals had declined the lungs for one reason or another. They weren't a perfect match for Blackwell, either – they were a bit short – but he and his surgeon decided to take the chance and hope they would fill in. His health issues after the transplant have been few, and minor.
Blackwell wrote to McGee's family in 2017. He and Manley-Shelton corresponded for a year, then decided to meet. Both extended families met at Master's Restaurant in Madison Heights – a group so large they nearly filled the upper floor. Blackwell made sure to bring a stethoscope and Manley-Shelton leaned in and listened to her son breathing, once again.
"I just chilled up. There was such joy in me," said Manley-Shelton, of Pontiac. "Every time we're together, I'm just so happy this man and his family reached out to me."
They are together often. Blackwell and Manley-Shelton exchange texts every morning – she calls him 'her sonshine.' The families bowl together every Sunday and meet for barbecues and birthday parties. Blackwell said he sees McGee's family more often than he does his own.
Manley-Shelton said she still thinks frequently of her son and remembers the way he would light up a room, his smile, how he "never met a stranger," his sense of humor, and how he was a hard worker who loved life and his family – qualities she now sees in Blackwell.
"Sometimes I break down still; I break down and cry," said Manley-Shelton. "But then I grab hold of myself and I start smiling again because my son is still living inside of others, and he's always going to live within me."
Gift of Life Michigan is celebrating its 50th anniversary in 2021 by honoring the stories of 50 donors, donor families, volunteers and supporters. For more #50for50 stories, click here.