Week-long event promotes organ, tissue donation, and healthy lifestyles
Detroit, MI – The annual LIFE Walk/Run will return this year, with a twist. Given current social distancing concerns, participants will be able to lace up their shoes and join with hundreds of others virtually. Even in the midst of a pandemic, the community will rally together to support organ and tissue donation, and transplant education.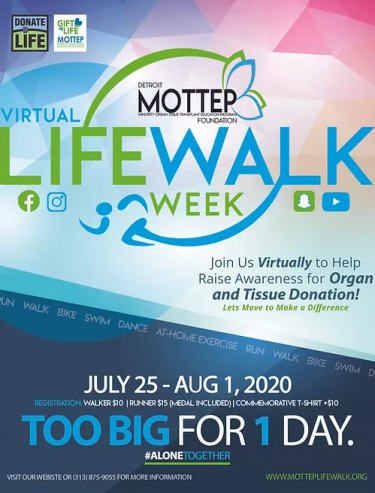 The 22nd annual event will take place virtually this year. Dubbed 'Too Big for One Day,' the LIFE Walk/Run will kick off with a Facebook Live event on Saturday, July 25 and continue through August 1, with activities scheduled every day.
The event, founded by the Detroit Minority Organ Tissue Transplant Education Program (MOTTEP) Foundation, is designed to highlight the need for minority organ and tissue donors. "We are hearing from people everywhere how excited they are to lace up and support organ and tissue donation, which is such a critical issue," said Remonia Chapman, Community Outreach Manager at Gift of Life Michigan and director of Detroit MOTTEP. "Thanks to volunteers, our dynamic funding partners, and eager walkers/runners, we look forward to adapting and still having a great event."
"One of the great things about LIFE Walk is it has a dual purpose and that's to always encourage people to sign up on the Michigan Organ Donor Registry and to learn more about organ and tissue donation," she added. "Of course, there is also the benefit of getting in a little exercise."
The event will start with a Facebook Live session beginning at 8:45 a.m. on July 25. The kickoff event, which will last about two hours, will feature guest speakers including Dorrie Dils, CEO of Gift of Life Michigan, co-chairs Dr. Terra DeFoe-Griffin, Rico Razo, Denise Fair, Keith Jennings, Eric Sabree, Judge Aliyah Sabree, recognition of organ transplant recipients and donor families, as well as a release of butterflies to honor donor families.
The Detroit Police Department's 3rd precinct and Keith Jennings, of Blue Cross Blue Shield of Michigan, and his family, will represent donor families. At 9:30 a.m., the 5K and 10K runs will 'kick off.' Participants are encouraged to form their own social-distancing teams and take part on their own route in their neighborhoods or at a location of their choosing.
"A virtual run is really great because you can do it at your own pace. You can do it on your own time and in your own neighborhood," said Terra DeFoe-Griffin, donor family member and avid supporter of LIFE Walk and MOTTEP. "It's about being able to come together and do something fun, with a purpose."
Activities will take place throughout the week leading up to August, which is National Minority Donor Awareness Month. Runners and walkers are encouraged to upload their times through the Detroit MOTTEP web site and share videos and pictures of themselves and their teams taking part in the event.
Denise Fair, who is the chief public health officer for the Detroit Health Department, said she has participated in the event since 2017. She wants to use it to encourage Detroiters to live a more active lifestyle.
"The bottom line is we, as a city, need to get healthy. We need to get healthier. It's particularly important now because we're in the middle of a pandemic with COVID-19. We're not out of the woods yet. We're preparing for the fall," she said. "In the meantime, it's important to get outside, get some fresh air, go for a walk, go for a run – just be outside – because we've been cooped up for almost six months. It's affecting our mental health. It's affecting our anxiety. It's important to get out there."
For a more detailed list of activities or to sign up for the event, visit detroitmottepfoundation.org.
###
About Detroit MOTTEP
Detroit MOTTEP Foundation is committed to decreasing the number and rate of people in need of organ and tissue transplants through disease prevention education, promoting healthy lifestyles, and to promote the message of organ, eye and tissue donation to multicultural communities in Detroit, and throughout Michigan. For more information and to learn more about Detroit MOTTEP, visit www.detroitmottepfoundation.org or call 313.875.9055.