Gift of Life Michigan honors ICU nurse manager for organ, tissue donation education
Wendy Lavin is dedicated to making a difference in the lives of her patients and spreading the legacy of hope.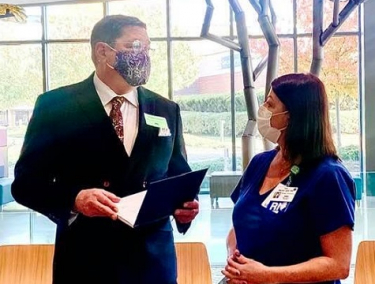 Lavin, manager of the Intensive Care Unit at Sinai-Grace Hospital, is one of 15 individuals and three hospitals statewide to be honored by Gift of Life Michigan for their efforts to promote organ and tissue donation. She earned this year's Hospital Educator Champion Award for her dedication to helping patients and their families save lives by working closely with Gift of Life.
She was a clinical care nurse educator at the time she earned the award. Although new to the role, she quickly adapted to it, organizing educational sessions for hundreds of nurses to provide guidance about organ and tissue donation and the importance of getting Gift of Life Michigan representatives involved with potential donor families as early as possible. She said the nurses are the ones who deserve credit for the award.
"It's really the bedside nurses that recognize when the patient meets the criteria and they make early referrals to Gift of Life so they can be involved early in the process," she said. "The nurses are great about making the call."
As manager of the 20-bed ICU that serves critical surgery and severe trauma cases, she said she knows how important timing is in the donation process and having Gift of Life staff on hand to support families in crisis. She works diligently with staff to make sure they call Gift of Life when their patients meet clinical triggers for donation consideration and, if they are too busy to call, she picks up the phone to make sure the important one-hour notification deadline is met.
She said making sure families have that option is a personal passion of hers.
"My personal connection is really my time spent in the hospital and seeing these poor families that are involved in these traumas," said Lavin, who has been a nurse for 29 years. "They feel like there's no hope and no choices, but when it comes to Gift of Life and honoring their loved ones through donation, it does offer the family choices and hope when they really thought there wasn't any."
Other Donor Champion Award winners are:
Volunteer: Lydia and Ward Kimball, West Branch
Community partner: Wayne State University, Detroit
Donation storyteller: WLNS, Ch. 6 TV, Lansing
Hospital executive leader: Dr. Harry Anderson, St. Joseph Hospital – Ann Arbor
Transplant Center Professional: Jennifer Fogarty, Beaumont Health
Hospital Spiritual Care: Cindi VerHeer DeYoung, Spectrum Butterworth, Grand Rapids
Medical Examiner: Dr. Joyce deJong, Medical Examiner
Honoring Life Through Donation Award: Chad Milton, Grand Rapids
Nurse: Elise Pavlick, Henry Ford Hospital, Detroit
Physician: Dr. Robert Beck, Bronson Methodist Hospital, Kalamazoo
Donation Liaison: Kathi St. Pierre, Northern Michigan Hospital, Petoskey
Funeral Professional: Rita Jordan, O.H. Pye, Detroit
Secretary of State employee: Kelly Davis, Shepherd
Multicultural Difference Maker: Terra DeFoe
Innovation Award: Phil Douma, Michigan Funeral Directors Association, Okemos
Donor hospital of the year: Hurley Medical Center, Flint
Legacy Award: Dr. Theresa Jacobs, Michigan Medicine, Ann Arbor