Detroit, MI — Even if you haven't attended a house of worship lately or aren't connected with a faith community at all, four Detroit clergymen — Bishop Phillip A. Brooks, Rev. Ronald Copeland, Rev. Patrick Gahagen and Deacon Lawrence Bailey – have a message they want you to hear and act upon:
"Become an Angel for Life and give the gift of life by signing up on the Michigan Organ Donor Registry."
The men are all spokespersons for the 2014 Angels for Life campaign and are alive today because each received one or more donated organs. The campaign, sponsored by Gift of Life Michigan and Gift of Life Minority Organ Tissue Transplant Education Program (MOTTEP), kicked off on April 24. It encourages Detroit and southeast Michigan residents to sign up for the Michigan Organ Donor Registry, with a special emphasis on attracting donors of African American, Hispanic and Middle Eastern descent.
"There is a stark statistical reality in Michigan," said MOTTEP Director Remonia Chapman. "Of the 3,300 Michiganders now waiting for organ transplants, 1,663 are from ethnic minority groups; the majority of whom are African American. And while transplants between people of different ethnicities are common, matches are more likely to be successful between people of the same ethnic background. That's why we are especially reaching out to faith-based organizations that have deep community roots to carry this message."
Faith-based organizations, businesses and nonprofit organizations are being asked to become Angels for Life partners and to assist their members and employees in registering to become Angels for Life organ donors in a variety of ways. Partnering organizations can share information through newsletters, bulletins, websites and social media, as well as holding on-site donor drives. Organizations wishing to participate should contact Jennifer Tislerics at
[email protected]
or 800-482-4881, ext. 1048.
The four clergymen will be featured on radio and television public service announcements talking about their experiences as organ recipients and the importance of organ donation throughout the Angels for Life campaign. A full video interview with the four can be seen at
https://giftoflifemichigan.org/
.
"I feel that I am on a mission, now that I am a recipient, to encourage and inspire everyone to become a donor and an Angel for Life," said Bishop Phillip A. Brooks, who is pastor of New St. Paul Tabernacle Church of God in Christ, Detroit and first assistant bishop of the Church of God in Christ. Bishop Brooks received a kidney transplant after years of hypertension left his own irreparably damaged.
"We as African Americans have to get over our reluctance to donate organs because we often need them most," said Rev. Ronald Copeland, associate pastor at New Prospect Missionary Baptist Church, Detroit, who received a new liver after years of damage caused by Hepatitis C.
"Donating an organ is an act of true love," said Deacon Lawrence Bailey, church administrator for Ambassadors for Christ Church in Midtown, who received a kidney transplant in 2013.
"To me, one of the greatest things is that we are here to tell the stories that are behind the statistics," said Rev. Patrick Gahagan, who pastors four Detroit-based Lutheran Episcopal affiliated churches. Rev. Gahagen, who had cystic fibrosis, received a double lung transplant at age 26 in 1997.
Anyone can join the Michigan Organ Donor Registry – regardless of their age or health history – by going to
https://giftoflifemichigan.org/
, calling 800-482-4881 or visiting a Michigan Secretary of State branch office. After joining the Michigan Organ Donor Registry, a red heart donor symbol will be placed on the front of the individual's Michigan driver's license or state ID. This symbol indicates that person's decision to someday be a donor.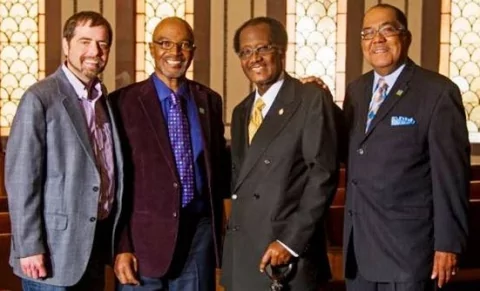 # # #