Beaumont nurse honored by Gift of Life Michigan as Donation Champion
When Jennifer Fogarty first volunteered to take on the role of transplant nurse outreach coordinator at Beaumont Hospital, Royal Oak, it was a four-hour commitment every week.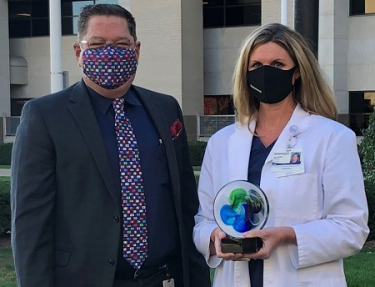 As she visited transplant clinic offices and dialysis centers, she saw the need for organ donors, heard the same questions and misconceptions about the process over and over, and realized there was a lot of work to be done. Her position gradually transformed into a full-time role and she expanded her educational efforts to the community, reaching out at civic events, places of worship, veterans' organizations and more.
"It's so important, with the growing transplant waiting list and more people waiting for so long for organs, to really try to get people to sign up on the Organ Donor Registry," said Fogarty, 45,who has been a nurse for 22 years and has worked on the transplant unit at Beaumont, Royal Oak, for 10.
Those outreach efforts are just one of the reasons Fogarty was honored by Gift of Life Michigan with a 2020 Transplant Center Professional Champion Award. She is one of 15 individuals and three hospitals to be honored for promoting organ and tissue donation and encouraging people to sign up on the Donor Registry.
In 2019, she helped start the Walk of Honor program at Beaumont, Royal Oak. During an Honor Walk, hospital staff line the hallways as a donor is taken to the operating room where their organs will be recovered for transplantation. Fogarty presented the idea to executive leadership and, four months later, Beaumont's first Walk of Honor was held to thank and remember an organ donor. She has also helped register hundreds of potential donors through the annual Gift of Life Hospital Challenge, too.
"The best part of my job is when I can get out of my office and talk directly to patients and answer their questions directly and give them honest answers," said Fogarty, a Commerce Township resident. "It's the best part of my day."
The questions range from "how do I get on the waiting list?" to "how long is the wait?" to the common apprehension shared by many people who are reluctant to sign up on the Organ Donor Registry: "If I'm an organ donor, will doctors work as hard to save my life if I get into a car accident?"
The answer to that, she said, is of course they will.
"The last thing we look at is if you're an organ donor," she said. "That's for when all medical treatment has not prevailed and we're at a point where there's not anything we can do for the patient. It's only then that we discuss donation with the family – and then it's not the medical team. It's a separate team."
She advised anyone who is not signed up on the registry to consider it. And, if they do, to let their family know.
"The best time to make these decisions is when you're not in crisis," she said. "Talk with family. Talk at the dinner table. It saves, in the long run, a lot of questions. You need to have a plan in place."
Other Donor Champion Award winners are:
Volunteer: Lydia and Ward Kimball, West Branch
Community partner: Wayne State University, Detroit
Donation storyteller: WLNS, Ch. 6 TV, Lansing
Hospital executive leader: Dr. Harry Anderson, St. Joseph Hospital – Ann Arbor
Hospital Educator: Wendy Lavin, Sinai Grace Hospital, Detroit
Hospital Spiritual Care: Cindi VerHeer DeYoung, Spectrum Butterworth, Grand Rapids
Medical Examiner: Dr. Joyce deJong, Medical Examiner
Honoring Life Through Donation Award: Chad Milton, Grand Rapids
Nurse: Elise Pavlic, Henry Ford Hospital, Detroit
Physician: Dr. Robert Beck, Bronson Methodist Hospital, Kalamazoo
Donation Liaison: Kathi St. Pierre, Northern Michigan Hospital, Petoskey
Funeral Professional: Rita Jordan, O.H. Pye, Detroit
Secretary of State employee: Kelly Davis, Shepherd
Multicultural Difference Maker: Terra DeFoe
Innovation Award: Phil Douma, Michigan Funeral Directors Association, Okemos
Donor hospital of the year: Hurley Medical Center, Flint
Legacy Award: Dr. Theresa Jacobs, Michigan Medicine, Ann Arbor