Photo contest seeks creative expressions of support
Ann Arbor, MI – Showing support for organ and tissue donation can be as easy as selecting which colors to wear or deciding how to dress up your pet.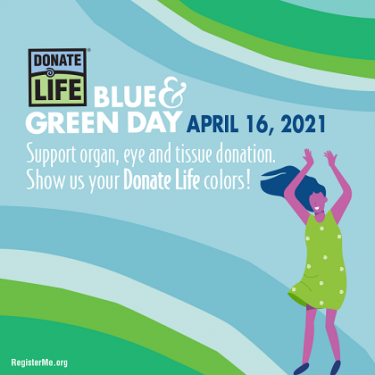 April 16 is National Donate Life Blue & Green Day, when anyone can wear blue and green, decorate their homes or dress up their pets in those colors to bring attention to organ and tissue donation and the need for more people to sign up on the Organ Donor Registry. Blue & Green Day is one of several events scheduled throughout the month of April, which is designated as national Donate Life Month.
As in 2020, Donate Life Month has been celebrated in the virtual realm, as ongoing Covid-19 safety precautions have restricted outdoor gatherings. Still, choosing blue and green colors is a way everyone can get involved, said Dorrie Dils, CEO of Gift of Life Michigan, the state's organ and tissue recovery program.
"This is an easy, fun way to support this cause and to honor the memories of those who have donated," she said.
It could prove beneficial, too. Donate Life America is sponsoring a photo contest to celebrate Blue & Green Day, as well. They're looking for blue and green photos in the following categories:
Kids and teens
Adults and families
Home and garden
Pets
Food and art
'Virtual' groups – a selfie collage of family, friends or work colleagues
The contest runs from April 16-20; selected winners will receive a $100 Amazon gift card. Additional details can be found on the Donate Life America Facebook page or website, www.donatelife.net.
There are more than 110,000 people on the organ transplant waiting list across the country, and nearly 2,500 here in Michigan. Because a single donor can save up to eight lives and help as many as 75 other people through cornea and tissue donation, it is important to add names to the Michigan Organ Donor Registry to give hope to those waiting for a life-saving transplant.
You can find additional Gift of Life Michigan Donate Life Month events here or on our Facebook page.
Click here to sign up to be an organ, eye or tissue donor.