Funeral Home professionals and Organ Procurement Organizations can sometimes have a contentious relationship.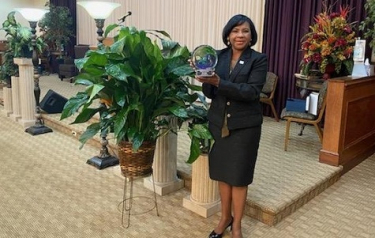 Caring for and embalming organ and tissue donors can create extra work for funeral professionals or new challenges for funeral directors. That's why it's important to have an advocate who helps improve collaboration between funeral homes and OPOs. This year, Rita Jordan is that advocate. Jordan, a pre-need counselor at O.H. Pye Funeral Home in Detroit, was honored by Gift of Life Michigan with the 2020 Funeral Professional Organ Donation Champion award.
"She is passionate about changing hearts and minds within the funeral service community by educating and empowering her peers. She understands that donation saves lives and she knows what it means to families," said Dorrie Dils, CEO of Gift of Life Michigan. "It is such an important partnership for us. We truly appreciate all she does."
An active member of the Michigan Funeral Directors Association, which represents 1,300 funeral directors at 650 funeral homes throughout the state, Jordan serves on the Donation Work Group, which collaborates with Gift of Life Michigan on ways to enhance communication, solve problems and provide better care for donors and their families.
She has also helped Gift of Life plan educational forums for industry professionals across the state, encouraged her peers to attend and played a pivotal role in them.
Jordan is one of 15 individuals and three hospitals to be honored by Gift of Life as Donation Champions in 2020 for their efforts to honor life through donation and encourage people to sign up on the Organ Donor Registry. Other winners include:
Volunteer: Lydia and Ward Kimball, West Branch
Community partner: Wayne State University, Detroit
Donation storyteller: WLNS, Ch. 6 TV, Lansing
Hospital executive leader: Dr. Harry Anderson, St. Joseph Hospital – Ann Arbor
Hospital Educator: Wendy Lavin, Sinai Grace Hospital, Detroit
Secretary of State employee: Kelly Davis, Shepherd, MI
Medical Examiner: Dr. Joyce deJong, Medical Examiner
Honoring Life Through Donation Award: Chad Milton, Grand Rapids
Nurse: Elise Pavlick, Henry Ford Hospital, Detroit
Physician: Dr. Robert Beck, Bronson Methodist Hospital, Kalamazoo
Donation Liaison: Kathi St. Pierre, Northern Michigan Hospital, Petoskey
Hospital Spiritual Care: Cindi Veldheer DeYoung, Spectrum Health Butterworth Hospital, Grand Rapids
Transplant center professional: Jennifer Fogarty, Beaumont Royal Oak
Multicultural Difference Maker: Terra DeFoe
Innovation Award: Phil Douma, Michigan Funeral Directors Association, Okemos
Donor hospital of the year: Hurley Medical Center, Flint
Legacy Award: Dr. Theresa Jacobs, Michigan Medicine, Ann Arbor