DETROIT, MI – Dignity Memorial Providers of Detroit will honor local paramedic Gary Terreault of Flat Rock at the 128th Rose Parade Jan. 2 in Pasadena, California. Family members and volunteers will pay a special tribute to Terreault, who passed away two years ago at the age of 61, by decorating a "floragraph"— a portrait made of floral and natural materials — to be featured on the Donate Life float at the Rose Parade. The floragraph portrait is a way to honor Terreault and raise awareness of the need for organ, eye and tissue donors.
For 29 years, Gary Terreault worked as a paramedic and later as an EMS coordinator and instructor. In death, he was able to help more people by giving the gifts of sight and mobility through eye and tissue donation. Because of this donation, The Dignity Memorial® network of 13 funeral, cremation and cemetery service providers in Detroit will honor Terreault by sponsoring the floragraph finishing event which allows family and friends to put the finishing touches on the portrait created by the artists commissioned by the Donate Life organization. The floragraph event will take place at the Southfield Fire Department, 24477 Lasher Rd., Southfield, on Tuesday, Nov. 15, at 4:30 p.m.
"Dignity Memorial Providers of Detroit are proud to celebrate the life of Gary Terreault and the impact he's made in the lives of so many through his donation," said Vern Pixley, senior managing director at Dignity Memorial. "We hope the floragraph portrait and the Donate Life float at the Rose Parade bring awareness to the importance of being a registered donor and giving others the chance at a new life."
Southfield Fire Department Chief Johnny Menifee knew Terreault. "We are so happy to offer our fire station as the place where Gary's family, friends and volunteers can gather to recreate his image for this wonderful tribute," Menifee said. "Gary's dedication to his job saved hundreds of people in the Detroit area."
Chief Menifee added, "Gary had a great outlook on life. He left his family with the memories of his kindness, wisdom and sense of humor, but his legacy lives on through his final act of kindness, which was to be an organ donor."
Gift of Life Michigan, the state's organ and tissue donor program, served as the intermediary between the Terreault family, medical facilities and the patients who benefitted from Terreault's donation. "Honoring Gary at the national level with a portrait on the Donate Life float is fitting," said Dorrie Dils, CEO of Gift of Life Michigan. "He obviously cared about others and, in his death, he gave the ultimate gift through tissue and eye donation."
Donate Life America is an alliance of national organizations and state teams across the United States, including Gift of Life Michigan and Eversight Michigan, committed to increasing the number of donated organs, eyes and tissue available for transplant to save and heal lives.
Since 2009, Dignity Memorial, North America's largest network of funeral, cremation and cemetery service providers, has been a top-tier sponsor of the Donate Life Rose Parade float. The Donate Life Rose Parade float's mission is to inspire 30 million television viewers to give the gifts of life by signing up to be organ and tissue donors on their respective state registries. The 128th Rose Parade will be held on Monday, Jan. 2, 2017, in Pasadena, California.
###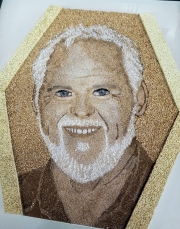 About Dignity Memorial
The Dignity Memorial network consists of more than 2,000 funeral, cremation and cemetery service providers and is North America's most trusted resource for funeral and memorialization services. Dignity Memorial providers offer an unmatched combination of products and locations serving families with care, integrity, respect and service excellence to celebrate each life like no other. For more information, visit www.dignitymemorial.com.
Gift of Life Michigan
Gift of Life Michigan is the state's federally designated organ and tissue donation program and serves as the intermediary between donors and their families, hospital and transplant center staff, and patients waiting for these precious gifts. Anyone can join the Michigan Organ Donor Registry, regardless of age or healthy history. Visit https://giftoflifemichigan.org/ or call (866) 500-5801 to register or to get more information.
Eversight Michigan
Eversight is a charitable, not-for-profit organization whose mission is to restore sight and prevent blindness through the healing power of donation, transplantation and research. Eversight's network of community based eye banks in Illinois, Michigan, New Jersey and Ohio recovers, evaluates and provides human eye tissue for transplantation; supports research into the causes and cures of blinding eye conditions; promotes donation awareness through public and professional education; and provides humanitarian aid to people around the world in need of sight-restoring services.