Few physicians have done more over the years to help fulfill the wishes of donors and their grieving families than Dr. Teresa Jacobs at Michigan Medicine.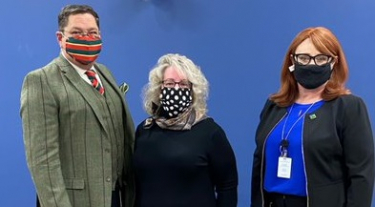 Dr. Jacobs, the director of the Neurological Intensive Care Unit (NICU) at Michigan Medicine and a renowned neurological surgeon, was honored with the 2020 Donation Champion Legacy Award for her work in support of organ and tissue donation and for promoting the message of hope and healing donation can provide to grieving families.
"Dr. Jacobs' drive, heart and willingness to help others is fueled by the knowledge that new life will come when another ends," said Dorrie Dils, CEO of Gift of Life Michigan. "She has been a tremendous advocate and partner over the years. She is truly deserving of this award."
In addition to her roles at the University, Dr. Jacobs leads a statewide consortium of physicians working to standardize brain death protocols for all hospitals to follow. Her work has included teaching colleagues the importance of these tests to improve donation outcomes as well as helping grieving families understand the concept of brain death.
She has shared her expertise and passion at meetings and conferences across the state and shared the message on the national stage, too, including the annual Association of Organ Procurement Organizations (AOPO) conference in 2018.
Dr. Jacobs said she is supportive of organ and tissue donation because she sees the good it can do for recipients and the hope it can provide donor families – that their loved ones live on, and can offer a second chance at life for others.
"Recipients talk about being at the end of their lives, and because of a generous donor, they can now see their kids graduate or get married," she said. "That gift is almost beyond words."
Dils and Bruce Nicely, chief clinical officer at Gift of Life Michigan, presented the award recently (above, right). Nicely said she is one of the most brilliant and passionate physicians he's worked with throughout his career.
"She is an incredible physician who embodies all that is good in medicine and caring for others," he said.
Dr. Jacobs is one of 15 individuals and three hospitals to be honored as Donation Champions by Gift of Life Michigan. Other winners include:
Volunteer: Lydia and Ward Kimball, West Branch
Community partner: Wayne State University, Detroit
Donation storyteller: WLNS, Ch. 6 TV, Lansing
Hospital executive leader: Dr. Harry Anderson, St. Joseph Hospital – Ann Arbor
Hospital Educator: Wendy Lavin, Sinai Grace Hospital, Detroit
Secretary of State employee: Kelly Davis, Shepherd, MI
Medical Examiner: Dr. Joyce deJong, Medical Examiner
Honoring Life Through Donation Award: Chad Milton, Grand Rapids
Nurse: Elise Pavlick, Henry Ford Hospital, Detroit
Physician: Dr. Robert Beck, Bronson Methodist Hospital, Kalamazoo
Donation Liaison: Kathi St. Pierre, Northern Michigan Hospital, Petoskey
Funeral Professional: Rita Jordan, O.H. Pye, Detroit
Transplant center professional: Jennifer Fogarty, Beaumont Royal Oak
Multicultural Difference Maker: Terra DeFoe
Innovation Award: Phil Douma, Michigan Funeral Directors Association, Okemos
Donor hospital of the year: Hurley Medical Center, Flint
Hospital Spiritual Care: Cindi Veldheer DeYoung, Spectrum Health Butterworth Hospital, Grand Rapids