DETROIT – Sharon L. Gee-Mascarello of St. Clair Shores is the first recipient of the Gift of Life Michigan Eversight Michigan Donation Champion Award for professionals in the funeral service industry.
The award was presented at an honors reception April 21 during the Michigan Funeral Directors Association Convention in Detroit. Gee-Mascarello – a funeral director, embalmer and instructor in the Mortuary Science program at Wayne State University – was recognized for her passionate commitment to save and improve lives by advocating for organ, tissue and eye donation.
"Someone once said, 'It's all about families and choices and supporting those choices,''' Stephanie Sommer, Gift of Life's funeral home liaison told the crowd. "That person was Sharon Gee-Mascarello."
For the past two years, she's hosted the Tapestry of Giving Organ and Tissue Donation Symposium in collaboration with Gift of Life, Eversight and the Michigan Embalmers Society at Wayne State University. She presented "The Role of the Embalmer in Support of Organ and Tissue Donation" workshop at the 2015 National Funeral Directors Association convention in Indianapolis, and she is the author of "Organ, Tissue and Eye Donation, What I'm Teaching My Students," which was published in the Michigan Funeral Directors Association quarterly journal.
In that article, Gee-Mascarello wrote: "My role is to mold my students into exemplary practitioners – knowledgeable, ethical, compassionate and empathetic funeral directors who are courteous and mannered and play well in the sandbox."
Sommer said Gee-Mascarello teaches her students that funeral directors serve families best by supporting their decisions and working hard to also support donors in their care.
"Families want to donate," Sommer said. "They find comfort in knowing something good came from the death of their loved one and knowing that many recipients will benefit from their loved one's gift of life, sight or mobility. Sharon helps make that happen for so many."
Last year, Gift of Life and Eversight fulfilled the wishes of 285 organ donors, nearly a thousand tissue donors and almost 2000 eye donors.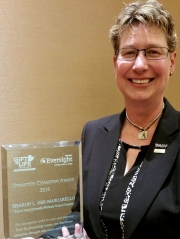 ######
Go to www.giftoflifemichigan.org to join the Michigan Organ Donor Registry.
Gift of Life Michigan, a nonprofit, is the state's only federally designated organ recovery organization. Eversight Michigan is dedicated to the preservation and restoration of sight through transplantation, research, education and partnership.