2018 saw new highs for organ donors, organ transplants and tissue donors in Michigan
Gift of Life Michigan helped a record 338 patients become organ donors last year, leading to life-saving organ transplants for well over 1,000 people, the first time the state has exceeded that mark.
Gift of Life also made it possible for 1,384 people to donate tissue in 2018, another record. The tissue will help patients suffering from debilitating injuries and illnesses regain mobility and find relief from pain.
"Any success begins with the decisions of donors and their families to help others as their final act," said Dorrie Dils, CEO of Gift of Life, the state's organ and tissue donation program. "We are so grateful for their generosity. We applaud our staff and our hospital, transplant center and tissue partners who turn these gifts into life-saving, life-improving transplants and grafts."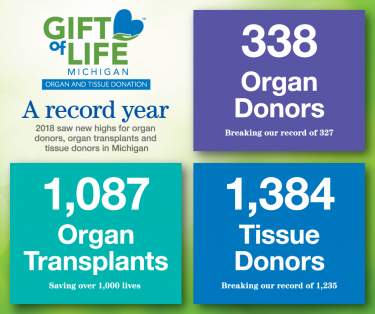 The 338 organ donors and the 1,087 organs that were transplanted shattered previous Gift of Life Michigan highs (327 and 922, respectively) that dated to 2008. The previous tissue record for the state was 1,235 in 2016.
National records for donation and transplant also were broken this year.
Michigan also added nearly 400,000 people to the Michigan Organ Donor Registry, bringing the number of registered donors to about 5.2 million. That's nearly two-thirds of adults in the state.
"Saying 'yes' to donation is becoming the norm in Michigan," Dils said. "At the same time, there are still 3,100 people in the state needing a life-saving organ transplant and 114,000 nationwide. There is still much work to do both as an organization and as a society."
Gift of Life Michigan also was recognized nationally last year. A video, "It's a Love Story," won a Pinnacle Award from Donate Life America for best multicultural outreach in the nation. The video tells the story of a donor husband's journey to embrace his wife's donation of organs and tissues.
Gift of Life, created in 1971, is the intermediary between donors, their families, hospital staff and the state's nine transplant centers. The Ann Arbor-based nonprofit also works with the Michigan Secretary of State to promote the Donor Registry.