'For me, it's being able to offer hope,' says SWAT team leader
Kathi St. Pierre does everything in her power to make sure organ and tissue donors are treated with the respect and honor they deserve and their families have plenty of keepsakes to remember these heroes.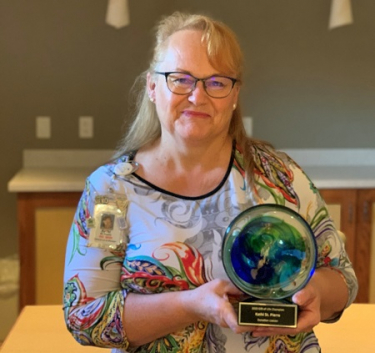 St. Pierre, a clinical nurse manager who works at McLaren Northern Michigan Hospital in Petoskey, has shown she cares deeply for donors and their families through the policies she's helped enact at the hospital and her interactions with patients. She is one of 15 individuals and three hospitals to be honored with a 2020 Donation Champion Award from Gift of Life Michigan.
"I do have a very strong passion for Gift of Life. It helped me reconnect with why I do what I do," said St. Pierre, who has been a nurse since 1988. "For me it was being able to offer a tiny bit of hope in a tragic situation that you could sometimes offer to a family, or you can give a family a small bit of hope that there could be something good that could come from an horrible situation."
St. Pierre heads a team of SWAT nurses who respond to every critical case in the hospital and the emergency department. They are trained to handle any kind of emergency, from heart attacks to strokes to traumatic injuries – SWAT, in this instance, stands for Skilled With All Things. They also work with and console families if their attempts to save a patient is unsuccessful.
Last year, St. Pierre and Michelle Rushing, manager of the Intensive Care Unit at McLaren Northern, developed an Honor Walk policy to honor donors; during an Honor Walk, staff members line the hallways while a donor is taken to the operating room where their organs and tissue will be recovered. It's a sign of respect for their ultimate gift, and it helps both the family and staff.
She also creates memory boxes for donor families. These may contain a Gift of Life flag, which is first flown outside to honor the donor, black and white photos of patients' hands entwined with family members' hands, Petoskey stones, locks of hair, tiny glass bottle with a copy of heart rhythm strip printed on it – so they can take their loved one's heartbeat home – and other things that reflect what staff learned about the family.
"We try to personalize those for everybody," said St. Pierre, 58, a Charlevoix resident. "Those kinds of pieces not only give the family a little bit of closure, a little glimmer of hope, but they also support the staff that there was some good for others that came out of the effort they put into the resuscitation."
At McLaren Northern, families are almost as involved during that critical treatment as the care team. Family members can be present during the resuscitation process with a staff member on hand to explain everything that is happening, and why.
"We decided as an organization, that the patient isn't the only 'customer.' The family of the patient also needs to be treated at the same time in those critical situations," St. Pierre said. "You need to connect with them and be open with everything you're doing to help save them so that they recognize when you get to the point of having that conversation about Gift of Life they're well aware of the efforts that have been taken."
Other Donor Champion Award winners include:
Volunteer: Lydia and Ward Kimball, West Branch
Community partner: Wayne State University, Detroit
Donation storyteller: WLNS, Ch. 6 TV, Lansing
Hospital executive leader: Dr. Harry Anderson, St. Joseph Hospital – Ann Arbor
Hospital Educator: Wendy Lavin, Sinai Grace Hospital, Detroit
Hospital Spiritual Care: Cindi VeldHeer DeYoung, Spectrum Butterworth, Grand Rapids
Medical Examiner: Dr. Joyce deJong, Medical Examiner
Honoring Life Through Donation Award: Chad Milton, Grand Rapids
Nurse: Elise Pavlick, Henry Ford Hospital, Detroit
Physician: Dr. Robert Beck, Bronson Methodist Hospital, Kalamazoo
Secretary of State employee: Kelly Davis, Shepherd, MI
Funeral Professional: Rita Jordan, O.H. Pye, Detroit
Transplant center professional: Jennifer Fogarty, Beaumont Royal Oak
Multicultural Difference Maker: Terra DeFoe
Innovation Award: Phil Douma, Michigan Funeral Directors Association, Okemos
Donor hospital of the year: Hurley Medical Center, Flint
Legacy Award: Dr. Theresa Jacobs, Michigan Medicine, Ann Arbor