Ann Arbor, MI – Elise Pavlick believes education and communication are the keys to providing hope and healing for patients and their families.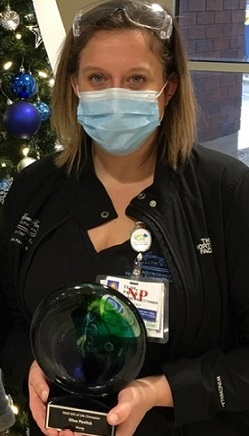 A nurse practitioner in the Neurosciences Intensive Care Unit at Henry Ford Hospital, Pavlick follows that same philosophy with patients who may become organ and tissue donors, as well as the families that sometimes have to make that decision for them. Gift of Life Michigan honored her recently with the 2020 Nurse Donation Champion Award for her dedication to making that process as seamless and compassionate as possible.
"I think organ and tissue donation is extremely important. There are so many people waiting for organs and many people die waiting for them," said Pavlick, who has been a nurse for 10 years and worked in the Nuero ICU for the past eight. "Organ and tissue donation should be a continual education topic in ICUs and EDs for nurses and providers. It also needs to be a continual topic for public health teaching as there is a lot of myths and misunderstanding in communities that keep people from becoming potential donors."
She has certainly done her part. Pavlick created a best practice alert that is triggered when a patient meets criteria for Gift of Life notification, which is now used throughout the Henry Ford Health System. As the unit educator in the neuro ICU, she educated nurses and providers about the process and serves as a resource when nurses are caring for donor patients. She also serves on the HFHS Organ Donation Committee, which reviews cases that were missed and cases that went extremely well to improve the overall procedure.
"I try and support organ donation at work by making the process easier and providing education when it is needed," she said. "In the ICU, early notification and communication with Gift of Life is the key to success."
Pavlick knows first-hand the benefits organ and tissue donation can provide. Her husband was an in accident in 2016 that resulted in burns over 70 percent of his body. He required skin grafts with donated tissue to heal.
"While I have been working to promote and increase donation compliance for years before his accident, seeing him alive now has definitely refueled my passion for organ and tissue donation," she said.
Pavlick is one of 15 individuals and 3 hospitals honored as Donation Champions this year. Other winners include:
Volunteer: Lydia and Ward Kimball, West Branch
Community Partner: Wayne State University, Detroit
Donation Storyteller: WLNS, Ch. 6 TV, Lansing
Hospital Executive Leader: Dr. Harry Anderson, St. Joseph Hospital – Ann Arbor
Hospital Educator: Wendy Lavin, Sinai Grace Hospital, Detroit
Hospital Spiritual Care: Cindi VeldHeer DeYoung, Spectrum Butterworth, Grand Rapids
Medical Examiner: Dr. Joyce deJong, Medical Examiner
Honoring Life Through Donation Award: Chad Milton, Grand Rapids
Secretary of State Employee: Kelly Davis, Shepherd, MI
Donation Liaison: Kathi St. Pierre, Northern Michigan Hospital, Petoskey
Funeral Professional: Rita Jordan, O.H. Pye, Detroit
Transplant Center Professional: Jennifer Fogarty, Beaumont Royal Oak
Multicultural Difference Maker: Terra DeFoe
Innovation Award: Phil Douma, Michigan Funeral Directors Association, Okemos
Donor Hospital of the Year: Hurley Medical Center, Flint
Legacy Award: Dr. Theresa Jacobs, Michigan Medicine, Ann Arbor