Floral portrait will honor 22-year-old nursing student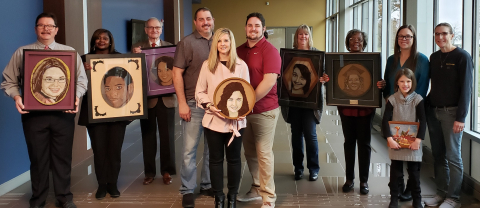 Everyone who knew Marissa Tudor would describe her as a healthy, fun-loving woman committed to her family and friends, someone who cared about others and wanted to dedicate her life to helping people.
Many others who never had the chance to meet her might also add: a life-saver.
Marissa became an organ, eye and tissue donor after her unexpected and sudden death at the age of 22 in July 2018. Her gifts provided life-saving organs to five people across the country and tissues for hundreds more.
"She always wanted to do this," said her father, Mark Tudor, who is the director of Surgical and Hospital Services at Gift of Life Michigan in Ann Arbor. "She's known about donation her whole life."
Mark and his family have met many of the organ recipients; Marissa's lung went to a woman in Cleveland; her heart to a 25-year-old in New York, her liver to a woman in Cincinnati, and both her kidneys to recipients in Michigan, which started a chain transplant reaction. One of those recipients' family member has since donated a kidney to someone in Tennessee and their family subsequently donated kidneys to someone in Detroit, where another family member donated one to a recipient in Florida.
Marissa will be one of 44 organ, eye and tissue donors honored with a floragraph — a floral portrait — on the 2020 Donate Life Rose Parade float when it proceeds along its five-mile route on Jan. 1, 2020. Mark and his family will also travel to Pasadena, California, and be able to watch the parade from the grandstand.
Marissa's family (at right) gathered this week to put the finishing touches on her floragraph, and were joined by past Donate Life Rose Parade float participants (above).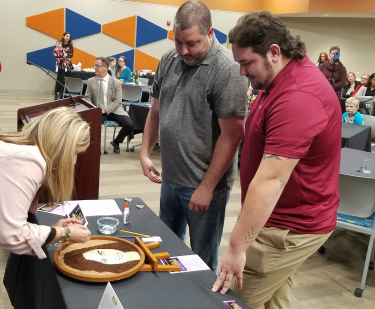 "We are honored to take part in this celebration of Marissa's life," said Dorrie Dils, CEO of Gift of Life Michigan, the state's organ donation program. "It's another way we can honor Marissa and the many people she helped through her gift of life and, by extension, honor all donors."
Marissa had always been a healthy child, according to Mark, but she came down with strep throat every winter. She was in her third year of nursing school when she decided to have a tonsillectomy. Complications arose after that routine procedure, however. She spent nine days in the hospital before she recovered. Even then, her throat was still swollen, which doctors said was typical.
"She was up, alert and fine — but she couldn't swallow. When she would drink water, it would come out of her nose. There was so much swelling," Mark said. "She was walking around, she could talk — there were no apparent problems whatsoever."
She was released from the hospital once the swelling went down but, two days later, she started to bleed from the mouth. Her mother called 911 and then took her to the hospital — they met the ambulance on the way — but Marissa blacked out en route. Doctors at the hospital worked feverishly to save her, but she never recovered. She was declared brain dead about a week later.
Through her first hospital stay, Marissa had another idea to help others. Her hair was long, thick and curly and the brushes at the hospital could not adequately go through it. She came up with "A Brush of Kindness," a donation drive to supply hospitals with better hair brushes so women could feel better while they healed.
Mark and Shelly have since created a 501c3 non-profit, hosted a golf outing and, through the organization, donated more than 5,000 brushes to hospitals across the country. There are plans to create a map and pin each location to provide another visual reminder of Marissa and the legacy she leaves behind.
"It's another thing we can do to pay it forward," Mark said.
---
David Rozelle, a heart transplant recipient from the Kalamazoo area, will also be participating with the Donate Life Rose Parade float, walking alongside to celebrate his second chance at life.