Event to address health disparities, provide resources to sustain a healthier workforce
Businesses can have a significant impact on the health and wellness of their employees and the communities they serve. That's why Gift of Life Michigan is teaming up with the Detroit Regional Chamber of Commerce to host a virtual Business Roundtable on Health, from 12:30-1:30 p.m. Monday, Oct. 26. Individuals can register at golm.org/lets-talk. The event will also be livestreamed from Gift of Life Michigan's Facebook and YouTube pages.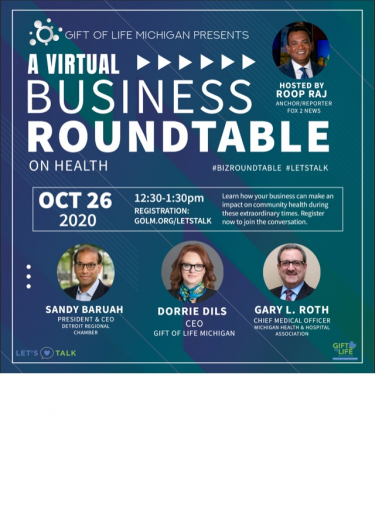 "The Covid-19 pandemic has once again highlighted the health disparities experienced by multicultural communities and has forced everyone to rethink the way we do business,"" said Remonia Chapman, manager of Community Outreach for Gift of Life Michigan "It has also shown that in the midst of change, we need to be there for the communities we serve as well as our business partners. This is an opportunity to for us to discuss strategies and find a better way forward, together."
The event will feature Sandy Baruah, president and CEO of the Detroit Regional Chamber, who will share his inspiring story as a kidney recipient, followed by a panel discussion featuring Dorrie Dils, CEO of Gift of Life Michigan and Gary Roth, chief medical officer of the Michigan Health and Hospital Association. Topics will include how businesses can support Gift of Life's mission and address health disparities. FOX 2 anchor Roop Raj will moderate.
The business roundtable is part of Let's Talk, Gift of Life's multicultural outreach campaign to educate African American, Latinx and Arab American communities about the need for more organ donors, break down misconceptions about the organ donation process and encourage conversations about the issue. The campaign launched in 2019 with dialogue circles in these communities to reinforce previous research conducted about the shortage of minority donors.
"We've learned through the pandemic that we all benefit when businesses come together to support underserved communities," said Baruah. "This event will equip business leaders with the right tools to create a healthier and thriving workforce. That's when everyone wins."