Multicultural outreach projects earn top honors from Donate Life America
Ann Arbor, MI – Gift of Life Michigan, the state's federally designated organ procurement organization, has been nationally recognized for two initiatives designed to increase awareness about organ, eye and tissue donation and encourage people to register on the Michigan Organ Donor Registry.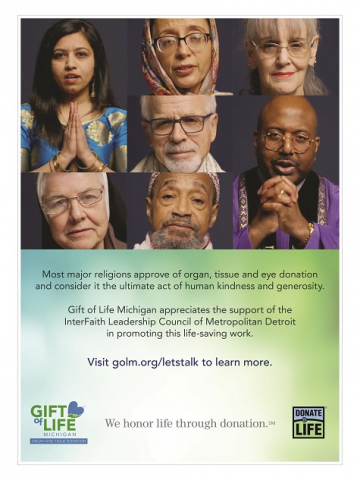 Gift of Life earned two Donate Life America Pinnacle Awards for projects related to its multicultural outreach. "Let's Talk," Gift of Life's ongoing outreach initiative aimed toward minority populations, earned the award in the Best Media Campaign category. "A Matter of Faith," a video that speaks to the acceptance of organ and tissue donations among most major faith traditions, earned the Best Multicultural Outreach award. Donate Life America is a national non-profit committed to increasing the number of donated organs, eyes and tissue available to save and heal lives, and the Pinnacle Awards recognize programs successful in inspiring more people to register as donors and establishing donation as a cultural norm.
"We are honored and humbled at the recognition these vital programs received," said Dorrie Dils, CEO of Gift of Life Michigan. "We are dedicated to reaching these communities, not just to provide information and education, but to listen and engage in conversation about the need for minority donors."
Let's Talk, now in its second year, has focused on virtual outreach due to the ongoing Covid-19 pandemic. Gift of Life has updated the Let's Talk pages on its website to feature new videos, additional stories from donor families and recipients alike and has also hosted Facebook Live events and online forums.
"We are always looking for new methods to engage our communities in this critical conversation," said Remonia Chapman, Community Outreach Manager at Gift of Life. "By sharing our experiences, we can break through these myths, overcome these obstacles and save more lives."
The Matter of Faith video features leaders from all major faith traditions discussing organ, eye and tissue donation as it relates to their respective cultures.
Michael G. Gray, producer and director of the video, said he was inspired to advocate for donation after a high school classmate passed unexpectedly and was able to donate his organs to save others.
"When I began crafting this story, I knew that my goal was to encourage other people to sign up to become organ and tissue donors without having to feel the pain of losing a loved one to understand the impact it has," he said. "So, for each person that watches this video and gives donation a second thought, I get to continue to honor his life."