Communications Specialist Betsy Miner-Swartz and Gift of Life Michigan have won Donate Life America's Pinnacle Award for Best Multicultural Outreach in the nation, for a video that told the story of Chad Milton, an African-American donor husband.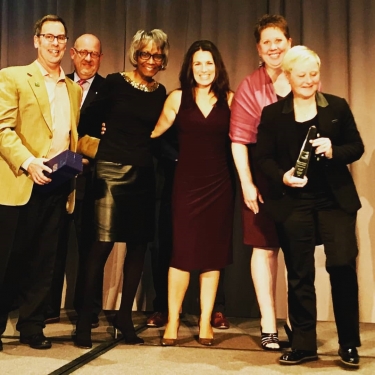 The video depicted Mr. Milton's opposition to donation until Gift of Life staff walked him through the process in which his wife, Mary, became a donor. The video was watched over 115,000 times through the Gift of Life Facebook page, shared 859 times on Facebook and had thousands of YouTube views.
In addition, Tim Makinen, communications director, was given the Trey Schwab Coaching Award for his leadership, mentoring and guidance in promoting donation across the country. Tim served as chair of Donate Life America's Advisory Council, beginning shortly after the passing of the award's namesake. Trey Schwab was a former pro and college basketball coach who made donation his mission after receiving a double-lung transplant.
The awards were presented Oct. 3 at the Donate Life America conference in Portland, Oregon. This is the second year in a row that Gift of Life Michigan has won a national DLA Pinnacle Award and the third time in four years. It is also the second straight Trey Schwab Coaching Award, which was won last year by Jennifer Tislerics, Gift of Life special events and partnerships coordinator.