Hastings, MI – Pam and Doug Reed, of Hastings, MI, supported the idea of organ and tissue donation long before tragedy struck their family last year.
An acquaintance of Doug's was on the waiting list 25 years ago but passed away before a new heart was available.
"We feel very strong about organ donation," Pam said. "We always have."
Last year, it became even more personal.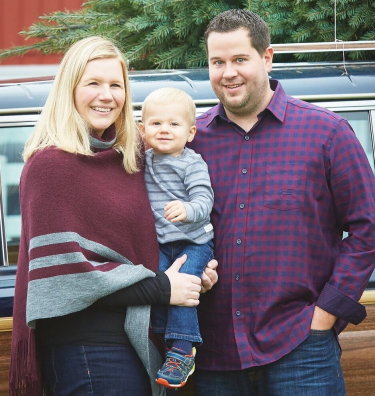 Their daughter, Dana La Haie, her husband, Ryan, and their son, Reed, were heading back to their home in Lowell at about 6:30 p.m. on March 9 when a drunk driver crossed the median on I-96 and struck their vehicle head on. Dana, only 36, was killed instantly. Ryan and Reed, who was only 3 at the time, both suffered critical injuries were taken to Sparrow Hospital in Lansing. They were both comatose; Reed showed no brain activity. Pam and Doug made the decision to donate Reed's organs.
"We felt like it was what Dana would have wanted to do," Pam said. "She would have wanted this for Reed, as well. It wasn't a hard decision for us."
That decision saved at least five lives. Reed's liver went to a 1-year-old patient; his kidneys to a 45-year-old and a 70-year old recipient. Three of his heart valves were recovered, too.
"We felt that was the most positive thing to come from this tragedy," said Doug. Ryan, when he woke from his coma several weeks later, agreed.
Pam said Reed is a good reminder of the kind of good organ, eye and tissue donation can do: a single donor can save up to eight lives and help as many as 75 other people through tissue, eye and cornea donation. While the spread of the new strain of coronavirus is the most important health issue facing the State of Michigan this year, it does not diminish the need for additional organ, eye and tissue donors here and across the country.
There are more than 113,000 people awaiting organ transplants in the country, including nearly 2,800 in Michigan, where organ donation and transplantation remain categorized as essential medical services and therefore exempt from the current shelter-in-place order issued recently by Gov. Gretchen Whitmer. Critical cases are still proceeding, and non-critical cases are being evaluated on an individual basis by transplant surgeons, hospital staff and patients. Gift of Life Michigan will not proceed with organ and tissue recovery if a potential donor tests positive for the virus.
Gift of Life staff and volunteers are urging people who have not signed up on the Michigan Organ Donor Registry to do so during National Pediatric Transplant Week, which takes place during National Donate Life Month in April to honor young donors and celebrate young organ transplant recipients.
"Signing up for the Michigan Organ Donor Registry is something anyone can do from their own home," said Dorrie Dils, CEO of Gift of Life Michigan. "It's a simple way that anyone can provide hope to the thousands of people waiting for a life-saving organ."
Pam Reed said it helps knowing Reed provided that hope. And it also helps knowing that, somewhere, their grandson with the smile and personality that charmed everyone who met him lives on.
"He was the best little boy. He was a little charmer," she said. "The thought that he possibly prolonged or saved someone's life is incredible! Reed will forever be our little hero!"
To sign up on the Michigan Organ Donor Registry, visit golm.org or call 866.500.5801.