Grand Blanc, MI – Organ transplant recipients are accustomed to taking extra precautions to protect their health. In the wake of the coronavirus pandemic, they need to even more cautious.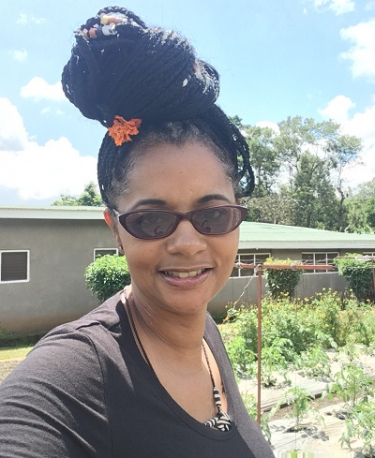 "We've got to be extra, extra diligent in taking care of ourselves," said Amy Bacon, a Grand Blanc resident and heart recipient. "We can't just think it's not going to get us."
She knows, because it did. She was diagnosed with COVID-19 in early April and fighting the virus has been a nearly-constant battle – even though she says she didn't experience the more severe symptoms associated with it.
A health educator at the Hamilton Community Health Network clinic in Flint, Bacon has been working remotely since March 30. She said she felt fine in the first week of April, but things changed after that.
She began to feel sick, but didn't experience the symptoms commonly associated with the coronavirus: There was no fever or cough. Bacon suffers from chronic migraines, but the headache she developed when the virus settled in was like nothing she had experienced before – none of her regular medications would ease it. Also, she said she had an intense burning sensation in her nasal cavity and felt very fatigued.
"I was just so tired," she said. "All I wanted to do is sleep, sleep, sleep."
She contacted her care team, and they did an assessment over the phone, then advised her to seek treatment at the Michigan Medicine Brighton Health Center. There, they x-rayed her chest, took a nasal swab and called with the news the following day: she had tested positive for the coronavirus.
"I bawled. Here I'm thinking: I just went through heart failure, now I've got another infection that could take me out? It was devastating," she said.
Her care team took her off one of her anti-rejection medicines in order to build up her immune system to help fight the virus. Because her symptoms were primarily gastro-intestinal, she never required hospitalization or a ventilator. She's been recuperating at home, but it has been an up-and-down process, characterized by periods of extreme fatigue and dizziness. Finally, the headache eased and her appetite is slowly returning.
"I feel like I'm on the mend," she said.
Bacon followed all the social distancing guidelines prior to being diagnosed with the virus. She kept her distance from people, only went out to go the pharmacy and grocery store and wore a mask everywhere. She's not sure when or where she came into contact with the virus and said that's why organ transplant recipients have to be very cautious.
"Be extra, extra diligent when you do go out. If you're wearing a mask, make sure you don't touch it with your hands," she said. "Wear gloves and be careful on cross contamination – just because you're wearing gloves doesn't mean you won't get sick. You're still touching things, you're still touching yourself, your steering wheel. You have to be extra, extra diligent. Obviously, we can't fight this thing the way most people can."
She said it's important to keep in contact with your care team – and let them know if you experience any unusual symptoms as soon as possible.
"They are your biggest advocate. Only they know what is normal for you," she said. "Keep them posted on anything you feel."
It's also important to maintain a safe home and ensure your family or other caregivers are taking extra precautions, too.
"I have friends who deal with issues where the people in their homes don't understand what it means to be immune-compromised," she said. "Make sure the people in your house are extra diligent. You don't have to be out in the streets to catch this; you can catch it from someone in your house that isn't practicing social distancing.
"It's like six degrees of separation," she added. "You can't just think about yourself, you think about who you've been in contact with, and who they've been in contact with and so on. The best thing is to isolate 100 percent until this thing has leveled out."
Bacon received her heart transplant in June, 2012, three years after she suffered a sudden – and surprising – cardiac arrest. She experienced no symptoms of heart disease before then and felt no ill effects while she recovered, but her heart disease continued to worsen until she was diagnosed with end stage heart failure in 2012. She was even placed in hospice care.
After her transplant, she was determined to use her experience to help other people. She re-enrolled in college, earning an associate degree a year later and then a bachelor's degree in Public Health Administration. After earning a master's degree in Public Health, she is now pursuing a doctorate degree.
When she's fully recovered from the coronavirus she said she wants to continue her work educating the public and advocating for the importance of organ, eye and tissue donation.
"I'm trying to reach as many people as I can," she said. "That's why I'm here and why I'm going to keep doing it. COVID isn't going to beat me."
For additional resources and updates on the coronavirus, click here. For the latest news from the U.S. Centers for Disease Control and Prevention, visit their website.
# # # # # #
About Gift of Life Michigan
Gift of Life Michigan is a federally designated organ procurement organization that serves the state of Michigan as the intermediary between donors, their families and hospital staff. In collaboration with Eversight, Gift of Life provides all services necessary for organ, eye and tissue donation. For more information, or to sign up on the Donor Registry, visit www.golm.org or call 866.500.5801.