Organ and tissue donation and transplantation is truly a team effort that requires collaboration between medical staff and transplant centers, along with the compassion and generosity of donors and donor families.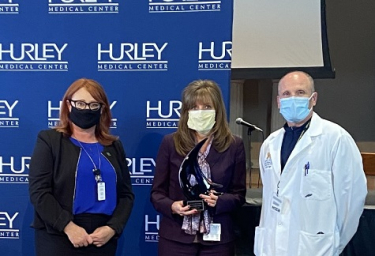 The Hurley Medical Center in Flint was honored by Gift of Life Michigan as the Donor Hospital of the Year for going above and beyond to promote education about organ and tissue donation, encouraging new donors to sign up on the Michigan Organ Donor Registry and for their dedication to honoring life through donation.
Valerie Canary, Donation Liaison Coordinator at Hurley, said the award was a reflection of the entire hospital as well as the generous donors and families who are offered a legacy of hope and healing through donation.
"Winning the award for Donor Hospital of the Year is certainly an honor and is only possible as a result of the efforts taken by the Hurley team," she said. "Staff in the emergency department, operating room and critical care areas work tirelessly to provide the option for organ donation to patients and their families. This award is a reflection of their hard work and dedication to support the donation process. It also honors our generous patients and their families who courageously choose the option to save a life."
Hurley Medical Center staff is continually working to enhance the organ and tissue donation process through a constructive and engaged donation committee. They also hold monthly trauma systems meetings and in-services that keep nurses informed and engaged about donation protocol, key data and process improvements.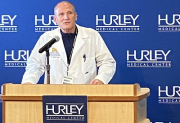 Chief Medical Officer Dr. Michael Jaggi (left, and above with Dorrie Dils, CEO of Gift of Life Michigan and Melany Gavulic, president and CEO of the hospital), who earned the Hospital Executive Champion award last year, is dedicated to organ and tissue donation, too, and serves as a role model for staff.
Hurley has seen an increase in organ donation cases over the past four years and last year, staff added more than 300 new donors to the Michigan Organ Donor Registry through the Gift of Life Michigan Hospital Challenge.
"Hurley Medical Center has been an invaluable partner in our mission of honoring life through donation," said Dorrie Dils, CEO of Gift of Life Michigan. "Their dedication to offering a legacy of hope and healing to donors and their families is an example for all to follow. The Hurley team is a great example of what we can achieve when we work together."
Other Donation Champion Award winners include:
Volunteer: Lydia and Ward Kimball, West Branch
Community partner: Wayne State University, Detroit
Donation storyteller: WLNS, Ch. 6 TV, Lansing
Hospital executive leader: Dr. Harry Anderson, St. Joseph Hospital – Ann Arbor
Hospital Educator: Wendy Lavin, Sinai Grace Hospital, Detroit
Secretary of State employee: Kelly Davis, Shepherd, MI
Medical Examiner: Dr. Joyce deJong, Medical Examiner
Honoring Life Through Donation Award: Chad Milton, Grand Rapids
Nurse: Elise Pavlick, Henry Ford Hospital, Detroit
Physician: Dr. Robert Beck, Bronson Methodist Hospital, Kalamazoo
Donation Liaison: Kathi St. Pierre, Northern Michigan Hospital, Petoskey
Funeral Professional: Rita Jordan, O.H. Pye, Detroit
Transplant center professional: Jennifer Fogarty, Beaumont Royal Oak
Multicultural Difference Maker: Terra DeFoe
Innovation Award: Phil Douma, Michigan Funeral Directors Association, Okemos
Legacy Award: Dr. Teresa Jacobs, Michigan Medicine, Ann Arbor
Hospital Spiritual Care: Cindi Veldheer DeYoung, Spectrum Health Butterworth Hospital, Grand Rapids