ANN ARBOR, MI— Promethera Biosciences LLC is joining Gift of Life Michigan to become an important part of the 2017 Donate Life Rose Parade float, Teammates in Life, on January 2, 2017, in Pasadena, California. Promethera, a regenerative medicine company targeting liver diseases, is sponsoring a Michigan woman, Sandi Gerwin, to ride on the float, which promotes organ, tissue and eye donation.
In March 2012, Gerwin and her husband, Eric, worked with Gift of Life Michigan to donate the liver cells of their newborn daughter, Paige, to Promethera, so that their loss could mean a better future for others.
"We are so grateful for the generosity of the Gerwins, and proud to sponsor Sandi to ride on the Donate Life float," said Mark Johnston, COO of Promethera Biosciences LLC. "Their daughter Paige lived a brief life, but her gifts and the gifts of others like her will have a lasting impact on many as we research better ways to combat liver disease."
During the first trimester of pregnancy, Sandi and Eric Gerwin, of Wixom, Michigan, learned that their child had anencephaly, a neural tube defect where the brain and skull don't fully develop. Although this was devastating news, they embraced every single moment they had with their child. The Gerwins cherished Paige through a full-term pregnancy and then for the additional 14 hours she lived after birth.
"Those 14 hours are the most treasured hours of our lives," Sandi said. "We knew Paige didn't need her organs in heaven. So we had worked with Gift of Life Michigan and Promethera to make donation possible. We were able to donate Paige's liver cells."
Gift of Life Michigan is the state's organ and tissue recovery organization. "Stories like the Gerwins' are both heartbreaking and uplifting," said Gift of Life CEO Dorrie Dils. "To think of helping others in the midst of incredible loss demonstrates their love for their daughter and also their generosity. We are honored to help families like the Gerwins and to collaborate with partners like Promethera to make miracles possible."
Now in its 14th year, the Donate Life Rose Parade float is the centerpiece of a national effort of more than 50 organizations that have teamed up to reach a broad audience with the simple, life-giving message that organ, eye, and tissue donation saves and heals lives.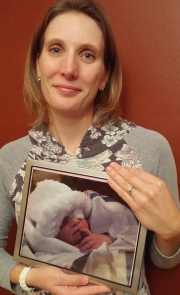 #####
EDITOR'S NOTES:
There are nearly 3,600 people in Michigan and over 120,000 nationwide in need of a life-saving organ transplant.
Anyone can join the Michigan Organ Donor Registry, regardless of age or health history. Go to GiftOfLifeMichigan.org or call (866) 500-5801.