Ann Arbor, MI – More than half the men, women and children waiting for a life-saving organ transplant are people of color, yet people in multi-cultural communities sometimes are more reluctant to sign up as organ donors.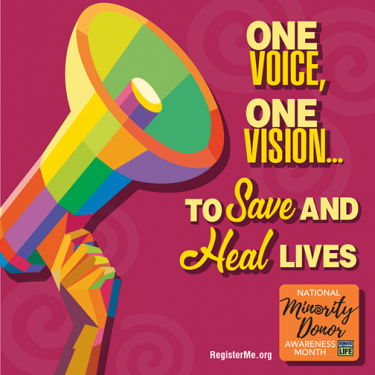 Gift of Life Michigan, along with Detroit Minority Organ Tissue Transplant Education Program (MOTTEP), Donate Life America and several other organizations hope to change that. August is National Minority Donor Awareness Month, a collaborative effort by the National Organ, Eye and Tissue Donation Multicultural Action Group to save and improve the quality of life of diverse communities by creating a positive culture for organ, eye, and tissue donation. Established as a week-long recognition in 1996, it has been extended this year with the goal of bringing heightened awareness to donation and transplantation in minority communities and encourage people to lead healthier lives.
"These are important conversations to have," said Dorrie Dils, CEO of Gift of Life Michigan. "The need for organ, eye and tissue donations within the multicultural communities is great and we, as an organization, are dedicated to reaching out to provide education, hope and healing."
The move to a virtual recognition was created by the COVID-19 pandemic, which also highlighted some of the health disparities and challenges faced by ethnic minorities. Like health issues such as diabetes, high blood pressure and heart disease, the coronavirus is more likely to affect minority populations.
"If the corona virus has taught us anything, it's that we are all in this together," said Remonia Chapman, community outreach manager at Gift of Life Michigan and director of Detroit MOTTEP. "It is important for us to speak in one voice, with one vision, to save and improve lives."
The are more than 100,000 people on the national waiting list and, of those, more than 60 percent represent racial and ethnic minorities. In Michigan, there are nearly 900 African American patients on the waiting list, as well as 88 people of Latinx descent and 62 Arab Americans as of July 1, 2020. Minorities tend to face a longer period of time on the waiting list because, while transplants can be successful regardless of ethnicity of the donor and recipient, the chance of long-term survival may be greater if the genetic background of the donor and recipient are closely matched.
During National Minority Donor Awareness Month, national organ donation organizations will highlight the need for more organ, eye, and tissue donors within multicultural communities, provide donation education, encourage donor registration, and promote healthy living and disease prevention to decrease the need for transplantation. Gift of Life Michigan will host Facebook live talks, share stories of recipients and donors alike and foster education on social media feeds.
"We're trying to reach people where they are at, to engage them in this conversation," said Chapman.
For more information, visit golm.org/lets-talk, or visit the Gift of Life Facebook page.