Event promotes need for organ, tissue donors with
'One voice, one vision to save and heal lives'
More than half the men, women and children waiting for a life-saving organ transplant are people of color, yet people in multi-cultural communities are more reluctant to sign up as donors.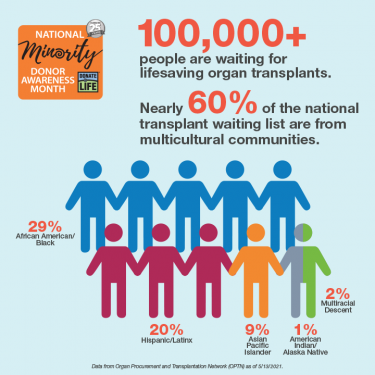 National Minority Donor Awareness Month, which marks its 25th year in 2021, seeks to change those statistics by promoting the need for multicultural people to sign up on the Organ donor Registry, educating the public about the benefits of donation and celebrating the stories of donors, donor families and transplant recipients.
"These are important conversations to have," said Dorrie Dils, CEO of Gift of Life Michigan. "The need for organ, eye and tissue donations within the multicultural communities is great and we, as an organization, are dedicated to reaching out to provide education, hope and healing."
There are more than 100,000 people waiting for a new life-saving organ in the U.S. More than 60% of them represent racial and ethnic minorities. In Michigan, there are about 2,500 people waiting for a new organ; of those about half are of African American, Latinx or Arab American descent. Even though a record number of nearly 40,000 people, including more than 18,000 racial and ethnic minorities, received the gift of life in 2020, the gap remains staggeringly high. On average, 20 people die every day waiting for a transplant.
The need for donation and transplant is more pronounced in minority communities where disproportionately higher rates of diabetes, high blood pressure and heart disease contribute to organ failure, especially kidney failure. African Americans are three times more likely than White Americans to have kidney failure. Hispanics are 1.5 times more likely than non-Hispanics to have kidney failure, according to the National Kidney Foundation.
On average, African American/Black transplant candidates wait longer than non-Black transplant candidates for kidney, heart and lung transplants. These healthcare disparities are part of the need for National Minority Donor Awareness Month education and outreach to help heal and save lives in our communities.
During National Minority Donor Awareness Month, national organ donation organizations elevate the need for more organ, eye and tissue donors within multicultural communities, provide donation education, encourage donor registration, and promote healthy living and disease prevention to decrease the need for transplantation. National Minority Donor Awareness Month is another important effort to promote the positive messages that are necessary for minority communities to make the decision for organ, eye and tissue donation.
Gift of Life Michigan is celebrating its 50th anniversary this year and has long supported outreach in multiethnic communities through its Let's Talk program, community outreach events and more. Dils said that commitment will continue.
"It's so important to reach out to and engage with these communities," she said. "We are dedicated to do everything we can to save more lives and to continue honoring life through donation."
For more, visit golm.org/lets-talk.