Generosity of Gift of Life Michigan donors benefitted thousands
For the second straight year, Gift of Life Michigan helped facilitate a record number of organ donors and tissue donors, whose gifts will save and improve the lives of tens of thousands of people in the state and beyond.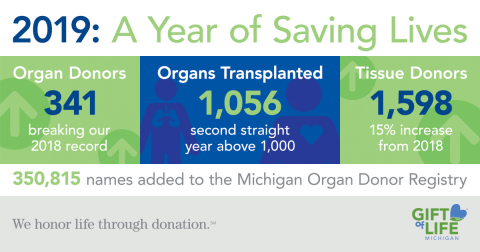 In all, 341 people donated organs and 1,598 donated tissue at the end of their lives. The numbers mark the sixth consecutive year of increased donations by Gift of Life Michigan, the state's organ and tissue recovery program. In total, 1,056 organs were transplanted from Michigan donors; it was the second consecutive year that more than 1,000 organs were transplanted.
"We are proud of these successes but recognize that each donor represents a family mourning the loss of a loved one," said Dorrie Dils, CEO of Gift of Life. "We are so grateful for their generosity and hope they find additional comfort, knowing these gifts have helped save and improve lives."
Reed LaHaie of Lowell was one of Michigan's donors. The three-year-old died following a car crash that also killed his mother in March 2019. His grandparents, Doug and Pam Reed, made the decision to help others. "In the wake of our family tragedy, donating our grandson's organs was the only positive outcome," they said. "Knowing that his donations helped many people to continue to live their lives is an amazing legacy for him to leave. He will forever be our little hero."
Londel Cook, 35, of Saginaw, is one of the hundreds of Michigan residents saved through donation and transplantation last year. He received a new kidney.
"My gratitude for (my donor) and his entire family is unmatched," Cook said. "Words will never be able to express my love and appreciation for what they have done for my life. And an incredible thanks to Gift of Life Michigan for making this possible for me and so many others."
In 2019, Gift of Life added 350,000 new names to the Michigan Organ Donor Registry through partnerships with the Michigan Secretary of State, a "Let's Talk" initiative to reach out to multicultural communities, and events like the Health Occupation Student Association (HOSA) challenge and the Campus Challenge. There are about 4.5 million registered organ, tissue and eye donors in the state.
At the end of 2019, some 2,854 patients in Michigan were waiting for an organ transplant.
"Saying 'yes' to donation is becoming the norm in Michigan," Dils said. "At the same time, there are still far too many people needing a life-saving organ transplant here and across the country. At Gift of Life, our core purpose is that we honor life through donation, so we are trying to do everything possible to provide this opportunity for families and to give hope to patients who desperately need these gifts."
About Gift of Life
Gift of Life Michigan is a federally designated organ procurement organization that serves the state of Michigan as the intermediary between donors, their families and hospital staff. In collaboration with Eversight, Gift of Life provides all services necessary for organ, eye and tissue donation. For more information, or to sign up on the Donor Registry, visit www.golm.org or call 866.500.5801.