Shepherd woman took organ, tissue donation message across Michigan
Kelly Davis is not able to promote organ and tissue donation around the State of Michigan as much as she used to, but she still believes it's an important issue.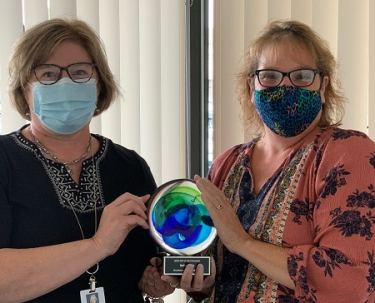 Davis, 54, of Shepherd, MI, is one of 15 individuals and three hospitals to be honored with a 2020 Donation Champion Award from Gift of Life Michigan for her work with the Michigan Secretary of State office. She earned this year's Secretary of State employee Champion Award for her dedication to educating Michigan residents about organ, eye and tissue donation and by working closely with Gift of Life to encourage residents to sign up on the Michigan Organ Donor Registry.
"I personally think it's very important for people to be registered as organ donors," said Davis, who has a personal connection to the issue. Her uncle passed away when she was young and donated his eyes and tissue to help heal others. One of her friends is a heart recipient and one of her former managers received a kidney from a living donor that prolonged his life for years. "I really think that organ donation and tissue donation is very important."
Davis is the manager of SOS mobile unit and travels around the state to events where the unit operates as a regular branch office, capable of performing most tasks a bricks-and-mortar office could do. In addition to events like the North American International Autoshow and other main conventions, she traveled to more than 15 colleges and universities on a voter registration tour where she also presented education about organ and tissue donation. She has worked with the SOS since 1997 and has been with the mobile unit since 2018.
This year, with the Covid-19 pandemic, the mobile unit is parked and she spends her days responding to requests, questions and complaints that come in the SOS social media pages. She said she looks forward to the days when she can again get out to the public.
"I think it's really important," she said. "I think Gift of Life is a wonderful organization."
Other winners include:
Volunteer: Lydia and Ward Kimball, West Branch
Community partner: Wayne State University, Detroit
Donation storyteller: WLNS, Ch. 6 TV, Lansing
Hospital executive leader: Dr. Harry Anderson, St. Joseph Hospital – Ann Arbor
Hospital Educator: Wendy Lavin, Sinai Grace Hospital, Detroit
Hospital Spiritual Care: Cindi VerHeer DeYoung, Spectrum Butterworth, Grand Rapids
Medical Examiner: Dr. Joyce deJong, Medical Examiner
Honoring Life Through Donation Award: Chad Milton, Grand Rapids
Nurse: Elise Pavlic, Henry Ford Hospital, Detroit
Physician: Dr. Robert Beck, Bronson Methodist Hospital, Kalamazoo
Donation Liaison: Kathi St. Pierre, Northern Michigan Hospital, Petoskey
Funeral Professional: Rita Jordan, O.H. Pye, Detroit
Transplant center professional: Jennifer Fogarty, Beaumont Royal Oak
Multicultural Difference Maker: Terra DeFoe
Innovation Award: Phil Douma, Michigan Funeral Directors Association, Okemos
Donor hospital of the year: Hurley Medical Center, Flint
Legacy Award: Dr. Theresa Jacobs, Michigan Medicine, Ann Arbor