Grand Rapids facility, staff recognized for innovation, support of organ and tissue donation
Spectrum Butterworth Hospital in Grand Rapids was honored as the 2021 Donor Hospital of the Year by Gift of Life Michigan for its dedication to honoring the generosity of organ and tissue donors and their families.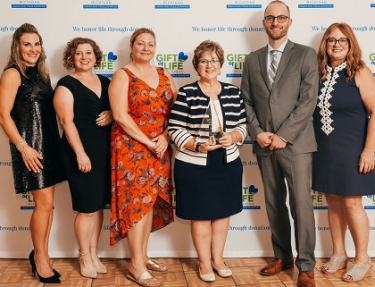 The hospital was among the three organizations and 13 individuals honored by Gift of Life as Donation Champions for their support of organ and tissue donation and promotion of the Michigan Organ Donor Registry.
"Spectrum Butterworth Hospital, Grand Rapids has long been an exceptional partner for Gift of Life Michigan," said Dorrie Dils, CEO of Gift of Life. "Their dedicated and compassionate staff are truly committed to saving lives and helping us in our mission of honoring life through donation."
Spectrum Butterworth Hospital, Grand Rapids was honored for implementing Honor Walks to show compassion and respect for donors and donor families, adopting the Gift of Life zip tie project, which helps facilitate conversation with families about authorizing donation, performing the first DCD heart transplant in Michigan and promoting a general culture of support for donation and donor families.
Shari Schwanzl, the Chief Nursing Officer, Spectrum Health Grand Rapids, said the award reflected the commitment of staff to save and improve and lives.
"It takes a dedicated team to make donation happen and I want to thank everyone who works so hard on it," she said. "We thank them for the work, the commitment to care and the compassion they provide for our patients in Grand Rapids and all across the state of Michigan."
Spectrum Butterworth Hospital, Grand Rapids has been the top donor hospital in Michigan 21 times in the past 23 years, averaging 31 donors annually that resulted in 723 organ donors during the past two decades, and thousands of lives saved and improved. In 2020, despite the Covid-19 pandemic, they honored the wishes of 34 organ donors and 62 tissue donors.
"We truly appreciate their commitment to saving lives and honoring the generous wishes of our donor heroes and their families," Dils said.
This is the third year Gift of Life has recognized Donation Champions throughout the state. Last year, due to the Covid-19 pandemic, the awards were handed out individually and winners celebrated via social media and other digital channels. The Champions Gala was an in-person event this year, held at an outdoor venue at Zingerman's Cornman Farms in Dexter.
Other winners are:
Secretary of State Employee: Maríaelena Hernandez, Secretary of State Branch Office, SW Detroit
Volunteer: Scott Campbell, West Michigan
Community Partner: Key2Finesse, Metro Detroit
Multicultural Difference Maker: Brandon Corder, Beats X Beers, Flint
First Responder: Huron Valley Ambulance
Donation Storyteller: Ingrid Kelley, FOX 2 Detroit
Medical Examiner: Dr. Carl Schmidt, Medical Examiner, Wayne County
Certified Physician Assistant: Blair Cotton, Spectrum Health
Nurse: Tonia Cole, McLaren Flint Hospital, Flint
Physician: Dr. Jeffrey Wilt, Ascension Michigan Borgess Hospital, Kalamazoo
Donation Liaison: Valerie Canary, Hurley Medical Center, Flint
Funeral Professional: Harry J. Will Funeral Homes, Metro Detroit
Transplant Center Professional: Dr. Damanpreet Bedi, Beaumont Royal Oak
Hospital Executive Leader: Lisa Friedman, St. Joseph Mercy Ann Arbor
Honoring Life Through Donation Award: John Edmond, Lansing
Legacy Award: Cathy Warren, Donate Life Coalition