Key2Finesse raises $75,000 for youth education, signs up 114 new organ, tissue donors
Key2Finesse, a non-profit organization founded by Metro Detroit high school students, was one of three organizations and 13 individuals honored by Gift of Life Michigan with a 2021 Donation Champion Award. The awards recognize extraordinary efforts to promote the Michigan Organ Donor Registry and those who help fulfill the wishes of donors and their families.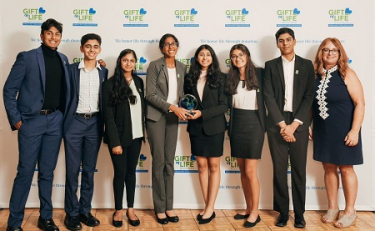 Key2Finesse, founded in 2015, works with a different non-profit every year to raise funds and exposure. In 2020, the group of high school students partnered with the Gift of Life Foundation, ultimately generating $75,000 for the Foundation and encouraging 114 people to sign up on the Michigan Organ Donor Registry. It was more money than the organization had raised in any prior year.
"We were so grateful when Key2Finesse selected us as their charity of choice in 2020," said Susan Rink, Chief of philanthropy and foundation programs at Gift of Life. "This is an inspiring group of young people who are determined to give back to the community."
The funds will allow Gift of Life to enhance the All of Us youth education program, which teaches students about organ, eye and tissue donation. The goal of the program is to provide students with accurate information about donation so they can make an informed decision when asked to join the Michigan Organ Donor Registry when they apply for or renew their Michigan driver's license. The grant will pay for several traveling trunks, which feature plastinated organ and tissue samples, glasses that simulate corneal blindness and workbooks, along with promotional items.
"We think this is an excellent use of the money they raised," Rink said. "The education and awareness we can provide to their peers may save lives one day."
Krish Ghosalkar, a Key2Finesse board member, said Key2Finesse students learned a lot working with Gift of Life last year and liked the idea of using the funds they raised to educate students in Michigan and to correct pre-conceived misconceptions about the process.
"If kids are educated properly, they can make informed decisions," said Ghosalkar. "It really just boils down to saving lives. If we don't educate young people now, they may never understand that."
Other Champion Award winners are:
Secretary of State Employee: Maríaelena Hernandez, Secretary of State Branch Office, SW Detroit
Volunteer: Scott Campbell, West Michigan
Multicultural Difference Maker: Brandon Corder, Beats X Beers, Flint
First Responder: Huron Valley Ambulance
Donation Storyteller: Ingrid Kelley, FOX 2 Detroit
Medical Examiner: Dr. Carl Schmidt, Medical Examiner, Wayne County
Certified Physician Assistant: Blair Cotton, Spectrum Health
Nurse: Tonia Cole, McLaren Flint Hospital, Flint
Physician: Dr. Jeffrey Wilt, Ascension Michigan Borgess Hospital, Kalamazoo
Donation Liaison: Valerie Canary, Hurley Medical Center, Flint
Funeral Professional: Harry J. Will Funeral Homes, Metro Detroit
Transplant Center Professional: Dr. Damanpreet Bedi, Beaumont Royal Oak
Hospital Executive Leader: Lisa Friedman, St. Joseph Mercy Ann Arbor
Honoring Life Through Donation Award: John Edmond, Lansing
Donor Hospital of the Year: Spectrum Butterworth, Grand Rapids
Legacy Award: Cathy Warren, Donate Life Coalition
This is the third year Gift of Life has recognized Donation Champions throughout the state. Last year, due to the Covid-19 pandemic, the awards were handed out individually and winners celebrated via social media and other digital channels.
"Gift of Life Michigan is so fortunate to have so many dedicated partners assist us with our mission of honoring life through donation," said Dorrie Dils, CEO of Gift of Life Michigan. "Every year there are so many worthy nominees. These champions represent the best of the best, but it is a difficult decision every year."