Gift of Life, MOTTEP, Michigan Medicine team up on virtual event
Ann Arbor, MI – Top medical and organ transplant professionals will get together this week to discuss healthcare disparities in minority populations and the impact they have on organ, eye and tiss
ue donation.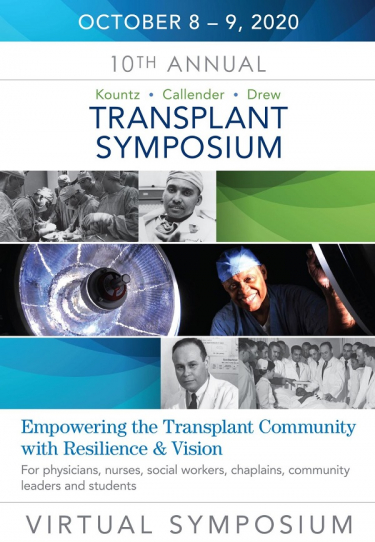 The Kountz Callender Drew Symposium, now in its 10th year, will be a virtual conference this year in response to the Covid-19 pandemic. It takes place Oct. 8-9.
The event will bring national and local experts together to discuss ways to engage physicians, other health professionals and community leaders to become champions in saving lives through organ and tissue donation, as well as encouraging people to lead healthier lifestyles. They will also discuss strategies to engage minority populations and encourage people to sign up on the Organ Donor Registry and talk about the ongoing concerns minority populations have with the delivery of care in the U.S.
Clive Callender, M.D., FACS, the most senior transplant official in the U.S. and founder of the Minority Organ Tissue Transplant Education Program (MOTTEP), is among the featured speakers, as are Daniel E. Dawes, JD, Director, Satcher Health Leadership Institute, Morehouse School of Medicine, Atlanta, GA and David Brown, M.D, Associate Vice President and Associate Dean for Health Equity and Inclusion at Michigan Medicine.
Jerome Espy a kidney transplant recipient and board member of the Detroit MOTTEP Foundation and Paul DeWyse, a lung transplant recipient and COVID-19 Survivor will share their personal stories, too.
The Kountz Callender Drew Symposium take place from 10-11:30 a.m. on Thursday and Friday. The symposium is open to anyone. To register, click here.