Gift of Life Michigan honors Holland resident as Donation Champion
As a hospital chaplain, Cindi Veldheer DeYoung is frequently with families at their darkest hour.
Working in the Intensive Care Unit at Spectrum Health Butterworth Hospital in Grand Rapids, she said her role is to provide spiritual and emotional support for patients and families, no matter what their circumstances may be – even if it comes at the end of their lives.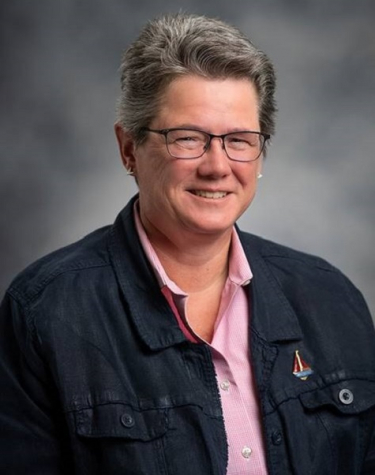 "Part of my outlook for the work I do as a chaplain is: how can I make something that's so tragic a little bit less awful? How can we bring some hope to this terrible situation?" said Veldheer DeYoung, 57, of Holland, MI.
Often that means initiating a discussion about organ and tissue donation, so that a potential donor can provide hope and healing to others in need. It's for those efforts that Gift of Life Michigan has honored her with a 2020 Hospital Spiritual Care Champion Award. Veldheer DeYoung is one of 15 individuals and three hospitals to be recognized for her efforts to save and heal lives through education of organ, eye and tissue donation.
"We are helping people find new life from tragic situations and take hope in tragic situations," said Veldheer DeYoung, who was a hospice chaplain for 14 years before she joined Spectrum Health 15 years ago.
As a spiritual advisor, she said her role is to help families make their own decisions, not influence them one way or the other. Mostly, she said, she's there to listen and be a supportive presence.
"When I do have a chance to talk to them, I talk about the significance of the legacy and try to affirm their decision," she said. "I try to say what a valuable legacy it is for the family, but I don't try to convince them that much. I try to be affirming of whatever decisions they make because it's such a tender time."
She is personally in favor of registering to be an organ and tissue donor and said she works with Gift of Life staff when they are on site, advising them of different family dynamics and the kinds of interactions she has had with the families. She is always willing to be the bridge between the hospital and Gift of Life when the time is appropriate to discuss donation and to make sure families are receiving the appropriate kind of support.
Whether or not to donate organs and tissue is up to the patient – or the family if the patient is not already registered on the Organ Donor Registry. It's important, she added, to make sure they have the opportunity to make their own decision and be supported no matter what it may be.
"It's so important to do the right thing, but to also give families the chance to have this kind of legacy," she said.
Other winners include:
Volunteer: Lydia and Ward Kimball, West Branch
Community partner: Wayne State University, Detroit
Donation storyteller: WLNS, Ch. 6 TV, Lansing
Hospital executive leader: Dr. Harry Anderson, St. Joseph Hospital – Ann Arbor
Hospital Educator: Wendy Lavin, Sinai Grace Hospital, Detroit
Secretary of State employee: Kelly Davis, Shepherd, MI
Medical Examiner: Dr. Joyce deJong, Medical Examiner
Honoring Life Through Donation Award: Chad Milton, Grand Rapids
Nurse: Elise Pavlick, Henry Ford Hospital, Detroit
Physician: Dr. Robert Beck, Bronson Methodist Hospital, Kalamazoo
Donation Liaison: Kathi St. Pierre, Northern Michigan Hospital, Petoskey
Funeral Professional: Rita Jordan, O.H. Pye, Detroit
Transplant center professional: Jennifer Fogarty, Beaumont Royal Oak
Multicultural Difference Maker: Terra DeFoe
Innovation Award: Phil Douma, Michigan Funeral Directors Association, Okemos
Donor hospital of the year: Hurley Medical Center, Flint
Legacy Award: Dr. Theresa Jacobs, Michigan Medicine, Ann Arbor