Michigan college students inspire 921 people to donate life!
For five weeks, Michigan colleges and universities put their rivalries to good use, inspiring more than 900 Michigan residents to sign up on the Michigan Organ Donor Registry.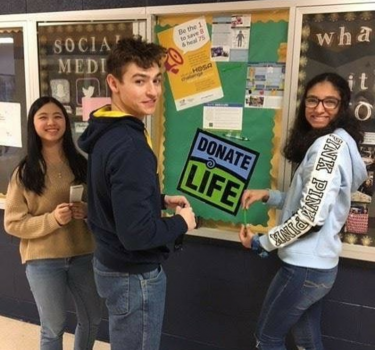 In this 16th year of the event, the Gift of Life Michigan Campus Challenge added a third trophy and a new way for schools to compete. In addition to signing up the most registered donors and signing up the most donors compared to student population, schools earned points for completing activities to promote organ, tissue and eye donation.
For all three trophies, success was achieved by staffing tables on campus, sharing clever graphics on social media, publishing articles in school newspapers and sharing facts about donation with friends and family. Students at four schools – Wayne State, Grand Valley, Mott Community College and Eastern Michigan – took over Gift of Life Michigan's Instagram account for a day or two, using the platform to inspire other students to sign up as donors.
The competition ended on February 20, and for the eighth consecutive year Wayne State University signed up the most new donors (374). Siena Heights University signed up the most donors compared with its student population (5 percent). Mott Community College earned the most activity points (70) for tabling on campus and posting supportive messages on social media.
"We are thrilled to have the support of college students across the state," said Dorrie Dils, chief executive officer of Gift of Life Michigan. "Through their efforts to sign up residents on the Donor Registry, these students have given the gift of hope to the 3,076 Michigan patients waiting for an organ transplant and tens of thousands more in need of tissue and cornea transplants."
Gift of Life Michigan is the state's federally designated organ and tissue recovery organization, which acts as intermediary between donors, their families and hospital staff. Gift of Life Michigan, in collaboration with Eversight Michigan, provides all services necessary for organ, tissue and eye donation.
A full list of participating colleges and universities, and their final scores in the Campus Challenge, is available at giftoflifemichigan.org/campus-challenge.