More than 300 comfort blankets created during third annual event
Dozens of volunteers, organ transplant recipients and members of donor families got together recently to create some warmth for newly grieving families.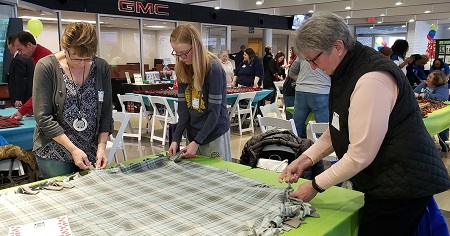 The Donate Life Coalition of Michigan, Michigan Donor Family Council, Wolverines for Life and Gift of Life Michigan teamed up to host several comfort blanket-creating parties around the state. The events took place in Ann Arbor, Grand Rapids, Flint, Southfield and, most recently, Detroit. It was the third year the Donate Life Coalition of Michigan put on the event and, when the last bit of fabric had been folded, volunteers had created more than 300 comfort blankets that will eventually be provided to families whose loved ones have recently donated.
"We had a wonderful turnout, with great support from our volunteers and the community," said Cathy Warren of the Donate Life Coalition of Michigan. "I was thrilled to see this event continue in Ann Arbor and extend to the cities of Grand Rapids, Flint and Detroit this year. This is only made possible by the generous support of community and donation partners."
Comfort blankets are provided to donor families at the time of a loved one's passing and often become a treasured keepsake for the family.
Renee Menefield, a donor mother from Harrison Township, said she took part in the comfort blanket creating event because she knows how much the blankets mean to grieving families. She received one when her 8-year-old-daughter passed away in 2009.
"The comfort blanket we received was placed over our precious daughter in her final moments, and it brings me the utmost peace and comfort still to this day," she said. "So I speak from unfortunate personal experience that these blankets bring joy to donor families."
Tina Darling, of Schoolcraft, said she was creating blankets in honor of her brother, Tim.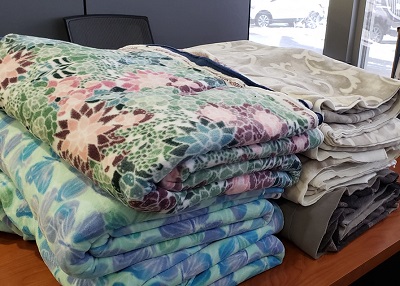 "When I miss him more than normal it gives me comfort knowing he helped someone who couldn't see their children or grandchildren, the beauty of the fall colors, or the lakes sparkle. They can see it through my brother's eyes," Darling said. "I love to crochet, so now I have a reason. Each stitch of a comfort blanket will be made with memories of fun times with my big brother, Tim."
The materials for the blankets were provided through the support of community sponsors, including: the Gift of Life Foundation, Gift of Life Michigan, Great Lakes Pension Associates, Inc., Hurley Medical Center, Eversight, Fleece & Thank You, Fuddruckers -Southfield, Art Moran Buick GMC and more.
"At Art Moran, we appreciate the opportunity to give back to the organ, tissue and eye donor families who are the true heroes," said Tom Moran, owner of Art Moran Buick GMC, which hosted one of the parties. "A gift as simple as a blanket can be so comforting to these amazing people."