Andrew Lepper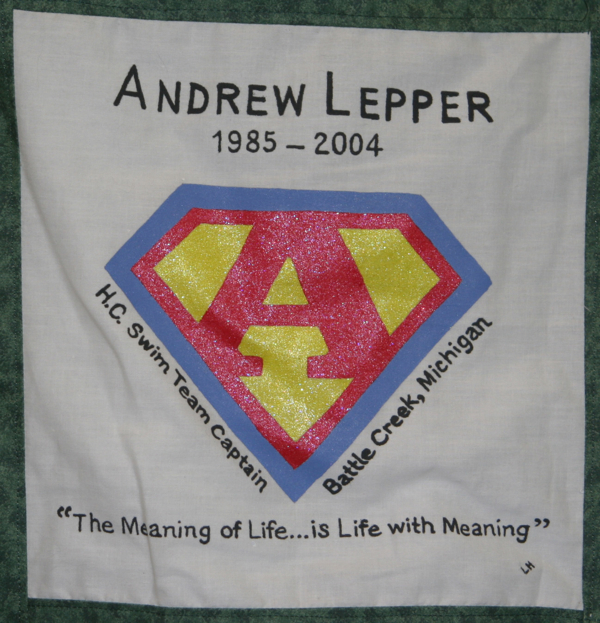 This quilt patch was designed to mirror Andrew Lepper. He was nicknamed "Superman" by the swim team which he was captain of for 2 years. He exuded maturity, character and integrity. He was a strong leader. Andrew loved anything and everything that had to do with Superman. While Andrew was in the hospital, the team joined forces and painted the huge Harper Creek "rock" with a Superman "A" signifying Andrew, signifying love.
On January 13, 2004, Harper Creek suffered a terrible loss. 18 year old Andrew lost his life in a tragic car accident, spreading teary eyes across an entire community.
Andy (as called by the coach) was loved by so many people, in so many different ways. He was an inspiration. In a time when there is so much negativity around us, Andrew was the beacon that shined through and showed us that there is still some good in everything.
He had a passion for life. He led by example and was a great role model for those around him. He was driven to succeed, always putting forth the extra effort to accomplish his goals, or helping those around him achieve theirs. Everyone knew that he could achieve anything that he set his sights on. He stood up for what he believed in. He was a phenomenal person – truly one of a kind. With the loss of Andrew, we all realize just how much he meant to us, and how much we mean to each other.
I hope that some of his dreams and ideals become our own. By adopting even one of his great traits, each of us has the ability to keep his memory alive through our daily actions. In doing so, a part of Andrew will live on forever.
One of Andrews favorite sayings was, "The meaning of life, is life with meaning."
—
Andrew was one of my best friends. I remember in class one day, I took a picture of him and I wanted to put a caption on it for a photo album I was making. I asked Andrew…"whats the meaning of you life". And he told me, "the meaning of life, is life with meaning". He loved his family and his friends, especially his brother Gabe. He wanted to be the best big brother he could be. Like everyone that knew Andrew, I am very proud of what he accomplished while he was here and his life will be remembered by all.
—