June 21, 2022 11:00 am to 1:00 pm
Check Your Heart Capitol Rally
Join donor families, transplant recipients, waiting patients, caregivers, medical professionals and other supporters of organ, eye and tissue donation on the lawn at the Michigan State Capitol building to celebrate the gifts of life, sight and mobility and to promote the Michigan Organ Donor Registry!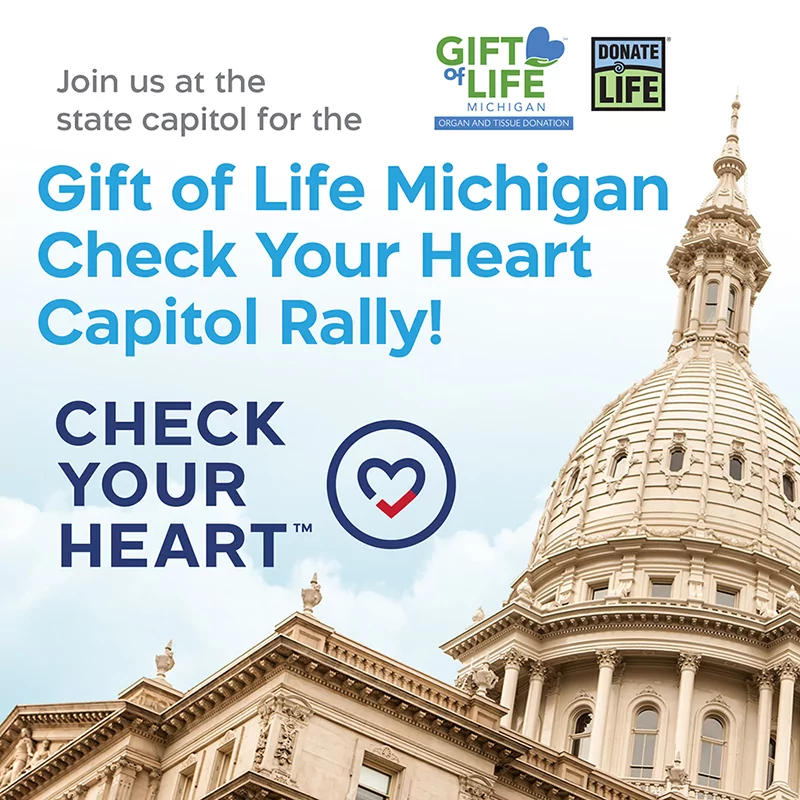 Join us at the State Capitol
Gift of Life Michigan and its partners, volunteers, donor families, and recipients are gathering in June at the state capitol building in Lansing to celebrate life and push for continued progress.  
The Check Your Heart Rally – open to all – is intended to honor donors and their families, celebrate new life for transplant recipients, and lend hope to those who are waiting.   
RSVP online to let us know you're coming!
Tuesday, June 21, 2022
11 a.m. – 1 p.m.
Program at Noon on the Capitol steps

Lunch provided, while supplies last

Rain or shine!
The event will kick off at 11 a.m. with tables and booths on the lawn giving attendees an opportunity to learn from Gift of Life, its partners in the healthcare industry and in the donation and transplant community. A Donate Life flag will also be displayed and available for signing as a show of support and commitment.   
A noon program emceed by veteran news anchor Sheri Jones from WLNS TV 6 News will highlight Gift of Life's statewide Check Your Heart campaign, the largest marketing blitz ever for the organization.   
Special guests John Edmond and Mike Lopez will talk about their special connection. Mike Lopez received a liver from 7-year-old Amaia Edmond – John's daughter – after she died during a Lansing home invasion more than a decade ago. The city has since declared May 31 Amaia Edmond Day.  
Michigan State Capitol Building
This is a In-Person Event