'I wasn't afraid of dying. There's always hope,' lung transplant recipient says
Jesse and Carlee Ramirez almost didn't find their happily-ever-after.
Jesse, now 62, and Carlee, 52, had just started dating when Jesse was diagnosed with idiopathic pulmonary fibrosis and given a short amount of time to live.
"I came out of the doctor's office in tears," said Carlee, a kindergarten teacher and Fenton resident. "We weren't married yet, but we knew we were going to be together."
Jesse had a more restrained reaction to the news. He asked the doctor if he was dying and how much longer he had to live. Then he said 'thank you.'
"I wasn't afraid of dying, to tell the truth," he said. "There's always hope."
Jesse started having difficulty breathing when he was 54. A blue-collar worker who has spent time as a maintenance man, mechanic and painter, he was working on an assembly line at the time and noticed his condition was starting to affect his job.
"I started slowing down," he said. "I couldn't catch up with the machine."
Medication slowed the progress of the disease, but he eventually required an oxygen tank and was forced to stop working. When doctors told him in 2018 how serious his condition was, he decided to break off his new romance with Carlee.
"It was hard for me," Jesse said. "I was just thinking about her and her kids. I didn't want them to feel the loss."
Carlee, however, would not listen to that kind of talk. "I told him: 'Well that's dumb. You're not leaving me; we're in this together. I'm going to be in it for the whole thing,'" she said.
The two were married in June 2018. About a year later, after being on the transplant waiting list for 88 days, Jesse received new lungs from a generous donor. Jesse said he felt mixed emotions when he woke up from the surgery: joy and sadness.
"We always remember that our joy came from someone else's pain. We've always kept that at the forefront for both of us, and our kids and our family," he said. "We really try to honor that in the best way that we know how. It's a second chance at life. You can't ruin it."
More than three years later, Jesse has fully covered. He's still unable to work, but enjoys working on cars and spending time with his grandsons – Carlee and Jesse have seven children and seven grandchildren between them.
"Those are the moments you treasure," he said. "You want to see them grow and what they'll become. I'm grateful for that."
The couple is also spreading the word about organ and tissue donation, and urging others to "Check Your Heart," and sign up on the Michigan Organ Donor Registry if they have not already done so. It's an important message, they said, especially in the multicultural community.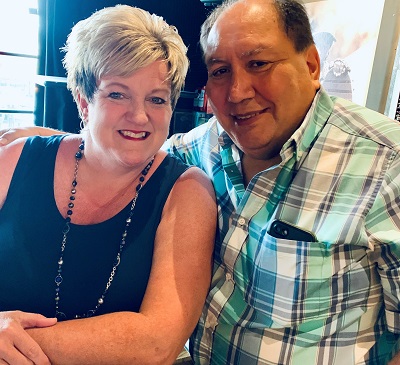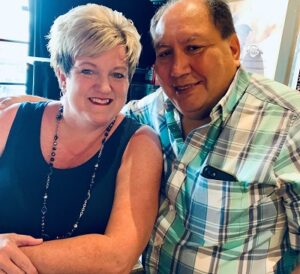 More than half the men, women and children waiting for a life-saving organ transplant are people of color, yet people in multicultural communities are more reluctant to sign up as donors. There are more than 100,000 people waiting for a new life-saving organ in the U.S. and more than 60% of them represent racial and ethnic minorities. In Michigan, there are about 2,400 people waiting for a new organ; about half are of African American, Latinx or Arab American descent.
"We want to get the word out there," Carlee said. "It doesn't have to be an awkward conversation because you're black or brown or white. We're all human."
To sign up as a donor, visit golm.org/register.