Heather Luchies had long known she would need a kidney transplant. Fortunately, when the time came, a donor was closer than she had anticipated. In fact, she had married him nearly two decades earlier.
Now 46, Heather Luchies was diagnosed with focal segmental glomerulosclerosis (FSGS), a condition that causes scar tissue to build up on the kidneys, when she was in her 20s. Doctors told her it would eventually lead to kidney failure, but could not provide a timetable.
"I stayed pretty stable," she said. "I was one of the lucky ones. I knew I would need a kidney one day; I just didn't know when."
Her husband, Todd, said it was just a fact of life, dating back to when the couple first met about 27 years ago.
"We always knew it was the eventual outcome. It was always on our mind," he said. "You never stop worrying about it: when it will happen, if she'd be able to find a match."
Heather said she was usually tired and suffered from brain fog, like she was spaced out frequently. She could hold a conversation, but would sometimes drift off or lose focus.
"I thought it was just my normal, being spacy and blonde," she said.
Her kidneys gradually got worse. In late 2016, they were bad enough to have her put on the transplant waiting list. Todd said he didn't hesitate to see if he was a match.
"I called the next day," he said. "We started getting tested a few days after that."
With each successive test, the news got better and better. It was soon clear that not only was Todd a match for Heather, he was a good match. Todd said he felt a tremendous sense of relief when the news was official. The transplant was scheduled for Jan 7, 2017; the couple had been married for about 18 years at the time.
"All the time spent worrying and here, the perfect kidney was right next to her all these years," said Todd, who is 47.
The transplant was successful. Todd said he noticed the change in Heather that night, as soon as he was able to get out of bed and go to her hospital room. Her color had improved. After about two weeks, they were back to living their regular life. Todd said he couldn't believe the change in Heather.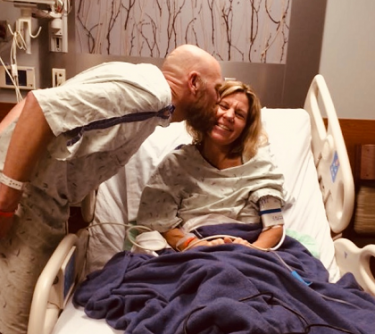 "It's an absolute miracle in my book. I'm not the most religious person in the world, but I thank God every day," Todd said. "Four years later, I'm still amazed. You see someone go from having no energy and just laying around and now you can't keep her down."
Heather was able to attend their son, Cayden's, high school sporting events and see him graduate high school. The couple continue to enjoy their active lifestyle. Todd, who works in construction, says he is still "working alongside the young ones," and that his surgery hasn't slowed him down. He didn't hesitate to offer his kidney to his wife and hasn't regretted it for an instant, he said.
"It's an amazing feeling. I wish I could do it again," he said. "I wish I had another kidney to give away to someone else."
Heather said she tells her story to break down myths associated with organ and tissue donation and encourages people to sign up on the Michigan Organ Donor Registry.
"I just tell them they won't be sorry," she said. "It's a beautiful, amazing thing. You see life differently – in a good way. You don't sweat the small stuff anymore."
Gift of Life Michigan is celebrating its 50th anniversary by honoring the stories of 50 donors, recipients and volunteers. Read more stories here.