Two decades ago, Mark Otto would've been happy to gain just one more year of life. Then 34, his liver was failing and he was plagued by chronically itchy skin. He was jaundiced and extremely fatigued, sometimes sleeping 16 hours a day.
"It was about as bad as it could get in the end," said Otto. "My surgeon told me I probably had a couple weeks to go."
Otto had been waiting for a new liver for nearly three years when he received the call that a gifted organ was a good match for him. Doctors had discovered he needed a new liver while he was hospitalized in 1998 to have his gall bladder removed and they saw how damaged his liver was.
"I always had elevated liver enzymes, ever since I was a teenager. Something was going on, but they could never diagnosis it. It never presented itself acutely until my gall bladder was taken out," said the Rochester Hills resident. "The doctor said I've got good news and bad news. We got your gall bladder out, but you need a new liver."
He had been living in California at the time, and, as time went on and he felt sicker and sicker, he moved back to Michigan to be closer to family. They were at his side when, after a two-day procedure he woke up to his second chance at life. That was 20 years ago, on May 25, 2001.
"I knew as soon as I woke up that I was cured," he said. "If you saw a picture of me before and after, you wouldn't recognize me. You go from looking really sick, like you're going to die – because you are – to looking normal again, maybe not the picture of health, but normal again."
Otto said his doctors told him it was one of the healthiest livers they had ever recovered. It wasn't too long before Otto said he wanted to "see how good it was." He wrote a long letter to his donor family, expressing his gratitude and sympathy for their loss, but never heard back from them. Still, he wanted to do something to express his gratitude and he started walking, with the thought of running a marathon in honor of his donor.
It was slow going, at first.
"I could walk the length of the sidewalk in front of my house, that was it," he said. "Even then, I needed help getting back."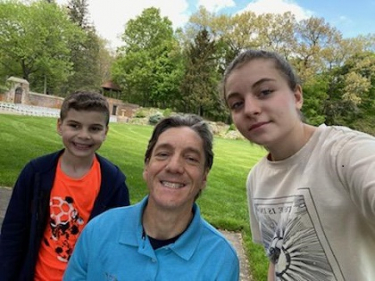 One block turned into two, then he made it around the block and started working toward the rigorous six-days-a-week training required to run a marathon. His first attempt, in Chicago in 2001, fizzled after he tore a meniscus. He entered the Detroit marathon in 2002 and finished it.
"I went slow and easy, but I never stopped," he said.
Otto has since married and had children. He still runs – although he no longer runs marathons – and stays fit and enjoys spending time with his family, including coaching his son's baseball team. He has worked at the Detroit Arsenal plant in Warren for about 17 years. He's advocated for organ and tissue donation, too, encouraging friends and family to sign up as donors, and talked about the good it can do. He says he owes his new life to the transplant services staff at the Henry Ford Health System, and the donor or their family who said 'yes' so long ago.
"It's all a miracle, top to bottom. There are no two ways about it," he said. "The donation is a miracle, the surgery is a miracle. Someone said the right thing. That's why I'm here."
Gift of Life Michigan is celebrating its 50th anniversary in 2021 by honoring the stories of donors, donor families, volunteers and recipients. For more #50for50 stories, click here.