Shelby Township woman saved a life, then took on Mounts Everest, Kilimanjaro
Emily Polet-Monterosso got healthy so she could give a kidney to a stranger, then started climbing mountains.
"It's the best thing I've ever done," said Emily, a Shelby Township resident, of her decision to donate.
"Since I donated, I've gone on some amazing adventures. I've seen parts of the world I've never seen before. These are things that never would've happened if I hadn't donated."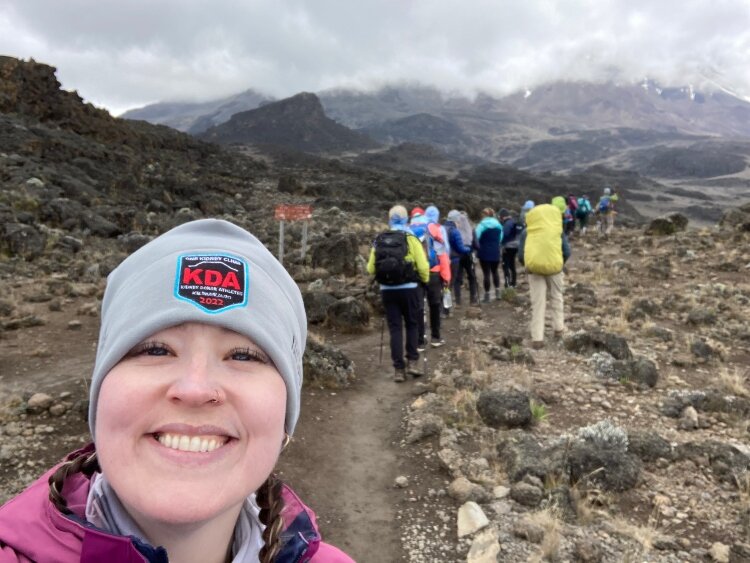 Emily's donation journey started about four years ago when she saw a Facebook post with a simple message about a single dad looking for a Type O kidney. She knew she was a Type O donor because she has donated five gallons of blood throughout her life. The phone number in the post was local, so she decided to call. That's how she eventually saved Ryan Standford, a father of three.
"Seeing it was a single father tugged on my heartstrings," she said. "I called the number, thinking: 'I'm probably not a match, but if I am and I don't call – that would tug at my conscience.' I called, figuring I wouldn't be qualified."
Emily went through the evaluation process and learned she was a good match for Ryan. Then she joined a gym to lose weight and get as healthy as possible for the surgery. Both decisions changed her life.
After she recovered from the surgery, Emily joined Kidney Donor Athletes, an organization that promotes the healthy lifestyle organ donors can experience after they give. They initially interacted through Zoom but when Covid-19 restrictions began to lift, they set their sights on Mt. Kilimanjaro in Tanzania.
Emily was one of 22 kidney donors who attempted to climb the free-standing volcano to celebrate World Kidney Day last March. She didn't reach the summit because of altitude sickness at the highest base camp, but she still felt exhilarated by the nine days she spent there.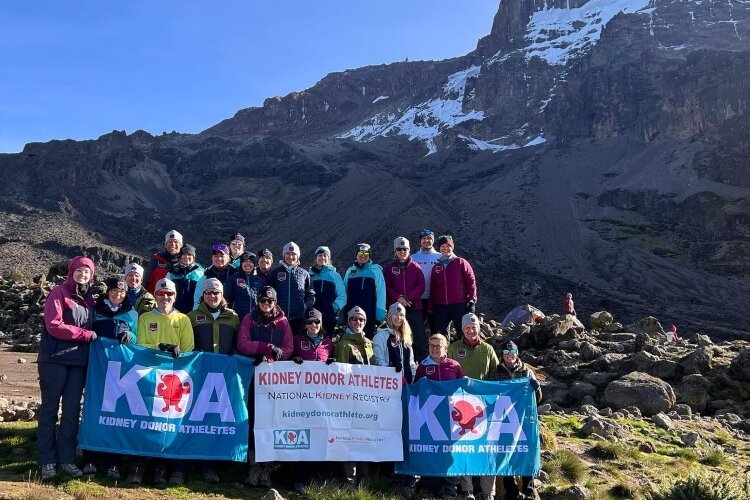 "It was a physical feat unlike anything I've ever attempted before and it kicked off a totally new love of mountain climbing that I had not experienced before," she said.
Emily kept in touch with her fellow climbers and tackled the Pemi Loop in New Hampshire last June. Over the summer, she connected with fellow organ donor and mountain climber Dave Ashley. Dave is credited with being the first kidney and liver donor to climb all seven of the Seven Summits, the highest mountains on each of the seven continents. Emily, Dave and three others climbed to Mount Everest Base Camp in October. Emily climbed higher than she did at Kilimanjaro. On that same trip, she reached the top of Everest's neighbor, Mount Kala Patthar. This July, she's reuniting with the Kidney Donor Athletes to climb Mount Bierstadt, a Colorado "14er," a mountain with an elevation of over 14,000 feet. She also has a six-day trek in Iceland planned for August.
"I'm healthier now than I ever was before my donation," Emily said. "I just feel like it's a great thing to share with potential living kidney donors, so they know that their health and their life and their ability to thrive after donating is not compromised in any way. They can go on to continue to live an exciting, fulling life."
To emphasize that point, Emily and four other living kidney donors will try this spring to break the Guinness World Record for the fastest ascent of all fifty US state high points. The trip is sponsored by the National Kidney Registry.
To find out more about living organ donation, visit golm.org/livingdonation.
For more information or to sign up as a donor, visit golm.org/register.