Davison, MI – It's not uncommon for a daughter to share a special bond with her father, but for Maddie and Tom Goyette, that bond is more than a typical family tie.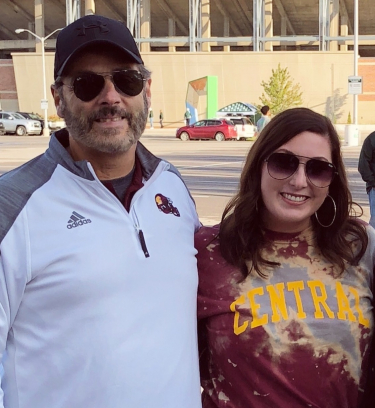 Maddie, who will turn 25 next month, donated a portion of her liver to her father when she was only 18.
"It was something I knew I had to do," she said. "He was my brothers' hockey coach; he and my mom were high school sweethearts – I'm like daddy's little girl. He's the rock of our family and it's so special to me that we can share this bond now."
Tom, whose family-owned business Goyette Mechanical has operated out of the greater Flint area since 1928, was hospitalized in 2013 with primary sclerosis cholangitis, a condition that causes a hardening of the liver. Doctors told the family that not only did Tom need a new liver, but it would have to come from a living donor.
Nine members of the extended family stepped up to be tested but, although initial results were positive, none of them were ultimately a good match.
"It was like disappointment after disappointment," said Maddie, who was a freshman at Central Michigan University at the time. "We didn't think we would find a liver."
She decided to get tested, herself – and at first she did not tell her parents. After the initial round of tests came back positive and she was asked to have a CAT scan and an MRI, she broke the news to them. They were not pleased.
"My mom said: 'Absolutely not.' They were not going to let me go through with it," Maddie said.
"Your job as a dad is to protect your daughter, not the other way around," Tom Goyette said.
They eventually relented, in part because they were running out of options, in part because of the assurances the Henry Ford Health System provided that Maddie would recover, and in part because they didn't believe Maddie would be able to donate a portion of her liver. She had always been active – she was a competitive gymnast for 15 years – but she also had asthma and was frequently sick when she was younger. They didn't think she'd be healthy enough.
Fate had other plans.
"The doctors told me I had the perfect liver to give to my dad. They couldn't believe it," Maddie said. "They couldn't believe how big an 18-year-old's liver could be, and how healthy it was."
Once they got full approval, the procedure was scheduled for Oct. 6, 2014. Maddie was a sophomore, then, attending classes part-time because she was determined to graduate despite donating a portion of her liver. Meanwhile, her family was planning. Tom Goyette, said the overall support from the family and community was incredible. He coached hockey at the time, and the players' families chipped in with meals while he and Maddie were recovering. The Goyettes held meetings at the family businesses, determining who could do what to help out. There were sports games to schedule, meals to coordinate and they would also have to determine how best to help Maddie's mother, who would be caring for both Maddie and her dad.
"It brought our family so much closer – and we were a close family before," she said.
The weight of the procedure didn't really hit her until she was in pre-op with her father. Her uncle looked down at her and asked one more time: "Are you sure?"
"I was like: 'Oh my God. I am really doing this.' That was the only time I kind of had a fear that something could happen," Maddie said. "I think the fear was: what if my dad rejects the liver? It was never what if something happens to me. It was more being scared of what could happen to my dad."
Her fears were baseless. Her father, who just turned 52, was up and walking around before she was. She missed two weeks of school, but graduated in 2018. Maddie said she and her dad are healthy and active, with no adverse effects from the procedure.
"My dad is the healthiest 52-year-old you'll ever see. He's out going on runs, he works out with me," Maddie said. "We're both doing really well. If you saw him, you'd never know he received a liver. He's honestly living his best life."
Maddie said she feels blessed to have been a part of his healing, and to share that special bond with him. She has also spoken with other families in a similar situation to talk about her experience and to reassure them.
"I want to be able to tell people: 'You are going to get better.' It is super-special, even though you may have doubts laying in a hospital bed," Maddie said. "It's another special thing that came out of this: being able to help someone else who is going through that process."
To sign up on the Donor Registry, visit www.golm.org or call 866.500.5801.