'It's about educating the community,' senior advisor to Mayor Mike Duggan says
Detroit, MI – Terra DeFoe, a senior advisor for Det
roit Mayor Mike Duggan, was honored by Gift of Life Michigan for her tireless work to share the message of hope and healing that organ and tissue donation can provide.
DeFoe, a donor mom, is one of 15 individuals and three hospitals honored with a 2020 Donation Champion Award for her efforts to educate the community about organ and tissue donation and to urge people to sign up as donors. She earned the 2020 Multicultural Difference Maker Award for her work with minority communities.
"You have to explain to your children about organ donation – and your community about organ donation," said DeFoe.
Her son, Emilio, understood how organ and tissue donation can save and heal lives. He signed up on the Michigan Organ Donor Registry when he was 18. When he died unexpectedly at the age of 24, he became a donor.
"Emilio made a decision that he wanted to make sure that what he leaves behind is able to change the quality of life for someone else," she said.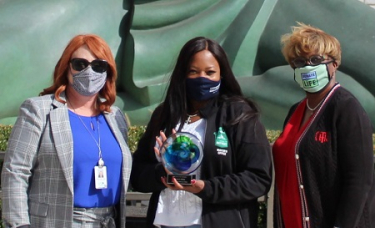 Since then, DeFoe has been a strong advocate for organ and tissue donation, speaking to thousands of people in the culturally-rich Detroit community about the need for additional organ and tissue donors. Minority populations are more likely to have conditions like hypertension, diabetes and obesity that can lead to organ failure and the need for an organ transplant. At the same time, they are less likely to sign up as donors due to misconceptions and common myths about the process. The most common: that doctors will not work as hard to save patients who are organ donors.
"When you talk to the African American community and the faith-based community, there are different myths," she said. "It has to stop because too many people are losing their lives because of this simple myth."
In addition to her role as advisor to the mayor, DeFoe is also a member of the Detroit Minority Organ Tissue Transplant Education Program (MOTTEP) Foundation board, serves as Community Engagement Chair for the annual MOTTEP LIFE Walk/Run, and she emcees the annual Sounds of Saving Lives concert.
She said it's important to share the message and to as many people as possible. "It's not about age, it's not about race it's not about faith. It's all about educating our community," DeFoe said.
Other Champion Award winners include:
Volunteer: Lydia and Ward Kimball, West Branch
Community Partner: Wayne State University, Detroit
Donation Storyteller: WLNS, Ch. 6 TV, Lansing
Hospital Executive Leader: Dr. Harry Anderson, St. Joseph Hospital – Ann Arbor
Hospital Educator: Wendy Lavin, Sinai Grace Hospital, Detroit
Hospital Spiritual Care: Cindi VerHeer DeYoung, Spectrum Butterworth, Grand Rapids
Medical Examiner: Dr. Joyce deJong, Medical Examiner
Honoring Life Through Donation Award: Chad Milton, Grand Rapids
Nurse: Elise Pavlic, Henry Ford Hospital, Detroit
Secretary of State Employee: Kelly Davis, Shepherd, MI
Donation Liaison: Kathi St. Pierre, Northern Michigan Hospital, Petoskey
Funeral Professional: Rita Jordan, O.H. Pye, Detroit
Transplant Center Professional: Jennifer Fogarty, Beaumont Royal Oak
Physician Champion: Dr. Robert Beck, Bronson Methodist Hospital, Kalamazoo
Innovation Award: Phil Douma, Michigan Funeral Directors Association, Okemos
Donor Hospital of the Year: Hurley Medical Center, Flint
Legacy Award: Dr. Theresa Jacobs, Michigan Medicine, Ann Arbor