Grand Rapids, MI – Due to the COVID-19 pandemic, Gift of Life Michigan could not host its annual Donate Life Day at the Zoo at the John Ball Zoo.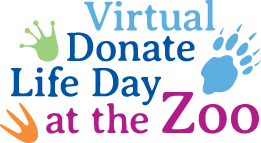 Instead, Gift of Life is bringing the zoo to you. The event, scheduled for 11 a.m. Saturday, Aug. 29, will take place online, featuring stories of organ recipients, donor families and, of course, animal adventures.
"We wanted to bring the zoo to the community as much as possible," said Alison Gillum, community relations coordinator for Gift of Life Michigan, who is organizing the event. "I think it's going to be a fun experience."
The goal of the event is to highlight the organ and tissue donation transplantation and transplantation community and to encourage people to sign up on the Michigan Organ Donor Registry. Gift of Life is working with the Mercy Health Kidney Transplant Center and Spectrum Health as well as Richard DeVos Heart and Lung Transplant Program to raise awareness about the issue.
Sponsored by Mutual of America, the Virtual Donate Life Day at the Zoo will feature some of the same activities as previous events, and allow attendees to go behind the scenes at the zoo – from the comfort of their own homes. There will be a Celebration of Life Trail that will honor organ donors and their families as well as the recipients who benefitted from those gifts of life, healing and mobility. A virtual Community Cove will provide resources and information about organizations partnering with the event. The program, which runs until 2 p.m., will include interviews with transplant recipients and other stories of hope.
In addition, attendees will be able to take virtual safaris, where zoo staff takes them behind the scenes at the zoo and offer an up-close look at some of the exhibits.
Because it is a virtual event, it is not limited to people in western Michigan. Anyone with a computer or smart phone can join in. For more information or to register for the event visit www.golm.org/zoo.