Third annual recognition ceremony celebrates donation supporters and innovators
Gift of Life Michigan has chosen 13 individuals, three organizations and one hospital to receive 2021 Donation Champion Awards to recognize their extraordinary efforts to help fulfill the wishes of donors and their families and promote the Michigan Organ Donor Registry.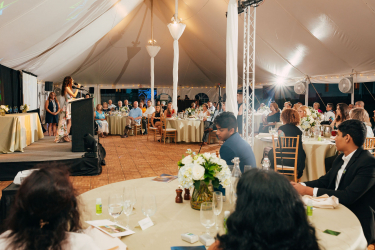 "Gift of Life Michigan is so fortunate to have so many dedicated partners assist us with our mission of honoring life through donation," said Dorrie Dils, CEO of Gift of Life Michigan. "Every year there are so many worthy nominees. These champions represent the best of the best, but it is a difficult decision every year."
The winners are:
This is the third year Gift of Life has recognized Donation Champions throughout the state. Last year, due to the Covid-19 pandemic, the awards were handed out individually and winners celebrated via social media and other digital channels. The Champions Gala was an in-person event this year, held at an outdoor venue at Zingerman's Cornman Farms in Dexter. Sponsors included: the Richard Devos Heart and Lung Transplant Program at Spectrum Health and Community Tissue Services at the platinum level, as well as the Henry Ford Transplant Institute, Global Transplant Solutions, Michigan Medicine, Mutual of America Financial Group and Life Cell.