Education, advocacy of organ donation brings Champion Award to Campus Challenge winners
Detroit, MI – For the past nine years, students at Wayne State University have won the annual Gift of Life Michigan Campus Challenge for signing up more people to the Michigan Organ Donor Registry than students at any other participating campus.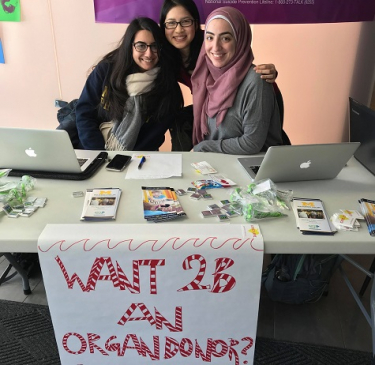 This year, they've added another feather to their collective caps: a 2020 Donation Champion Award. The Gift of Life student organization was one of 18 individuals and organizations honored by Gift of Life Michigan for their efforts to promote organ, eye and tissue donation.
"We at Wayne State appreciate the important work that Gift of Life Michigan continues to do to better our community," said Beverly Butler, a Wayne State Gift of Life Advisor since 2012. "We are proud to be a tiny part of the effort of saving lives in the decades to come."
When her daughter, Rebecca, died while waiting for a lung transplant and was able to donate her corneas, Beverly and Rebecca's sorority sisters wanted to promote organ, tissue and eye donation in her memory, so they took part in their first campus challenge. They've since signed more than 5,700 people up to the Donor Registry through various events across campus – even dedicating one year to WSU police officer Colin Rose, who died in the line of duty and became a donor.
Their dedication to the issue was one of the things that drew Erin Coburn, a Wayne State undergrad who served as Co-Chair of WSU Gift of Life in 2018 and 2019, to the sorority. Coburn, who is studying exercise and sports science, had long been familiar with organ donation. Her father was a two-time living donor: he donated a portion of his liver to her mother and, a year later, donated a kidney to her aunt.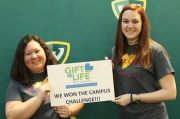 "Gift of Life has a special place in my heart," she said. "It was nice to be connected to it in college."
Through the campus challenge, students set up tables in the student center, dining halls and dorms and pass out t-shirts and other items along with information about organ and tissue donation.
"Some people have a lot of pre-conceived notions or their parents told them not to sign up," she said. "It's just because they don't know a lot or have a lot of misconceptions. They are scared of it. A lot of people don't know what it means to be on the registry; we give them a lot of education about what signing up entails."
Other winners include:
Volunteer: Lydia and Ward Kimball, West Branch
Secretary of State employee: Kelly Davis, Shepherd, MI
Donation storyteller: WLNS, Ch. 6 TV, Lansing
Hospital executive leader: Dr. Harry Anderson, St. Joseph Hospital – Ann Arbor
Hospital Educator: Wendy Lavin, Sinai Grace Hospital, Detroit
Hospital Spiritual Care: Cindi VerHeer DeYoung, Spectrum Butterworth, Grand Rapids
Medical Examiner: Dr. Joyce deJong, Medical Examiner
Honoring Life Through Donation Award: Chad Milton, Grand Rapids
Nurse: Elise Pavlick, Henry Ford Hospital, Detroit
Physician: Dr. Robert Beck, Bronson Methodist Hospital, Kalamazoo
Donation Liaison: Kathi St. Pierre, Northern Michigan Hospital, Petoskey
Funeral Professional: Rita Jordan, O.H. Pye, Detroit
Transplant center professional: Jennifer Fogarty, Beaumont Royal Oak
Multicultural Difference Maker: Terra DeFoe
Innovation Award: Phil Douma, Michigan Funeral Directors Association, Okemos
Donor hospital of the year: Hurley Medical Center, Flint
Legacy Award: Dr. Theresa Jacobs, Michigan Medicine, Ann Arbor