Most major religions support organ and tissue donation and faith leaders can help spread the word.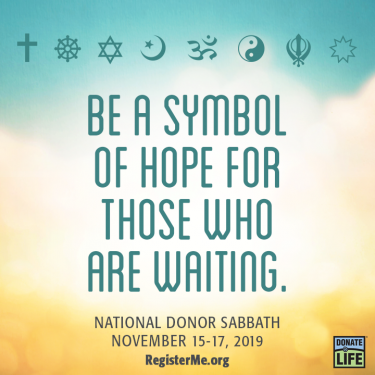 Gift of Life Michigan encourages faith leaders to make full use of National Donor Sabbath, an annual event supported by Donate Life America, to discuss the need for organ and tissue donation in the community, as well as to provide insight on how their respective faith traditions look at the issue. It takes place from Nov. 15-17 this year.
"Our goal is that every house of worship will at least begin to have this conversation," said Remonia Chapman, manager of community outreach for Gift of Life Michigan. "We need to come in and talk to people and not just have a one-time discussion, but have many discussions about the critical need for organ and tissue donors."
National Donor Sabbath is observed annually two weekends before Thanksgiving, from Friday through Sunday, to include the days of worship for major religions practiced in the United States. The observance is an opportunity for faith leaders, donor families, transplant recipients, and donation and transplantation professionals to participate in services and programs to educate the public about the lifesaving and healing gifts of organ and tissue donation. It also provides an opportunity for leaders to encourage people to register their decision to be an organ, eye and tissue donor.
Faith leaders can be an important part of the discussion because, in many cases, the families of potential donors are hoping divine intervention will heal their loved ones, even in situations where it is not medically possible. It's a sensitive issue, said the Rev. Ron Copeland of the New Prospect Missionary Baptist Church in Detroit.
"The leaders of the church have to become more aware and obtain knowledge about organ donation because of that hope," said Copeland, who is a liver recipient. "They hesitate to encourage their congregation to support organ donation. The interfaith community has to come together to discuss it and see where we, as a clergy, could come to an agreement."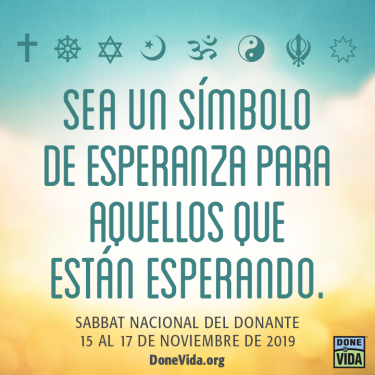 Gift of Life Michigan is one of 58 Organ Procurement Organizations in the country. National Donor Sabbath is just one way the organization reaches out to the community and encourages people of all ages to sign up on the Michigan Organ Donor Registry. Through campaigns like the Let's Talk initiative, partnerships with Gift of Life MOTTEP and outreach at Secretary of State offices, high schools, colleges and hospitals, Gift of Life hopes to provide the information to encourage registration and, ultimately, save and improve lives.
Donor registration is just the first step in the process. Conversation with family and friends is another, according to Jill Abromowitz Gutmann, an expert in bioethics who spoke at a recent Organ Donation Across the Faith Traditions discussion hosted by Gift of Life and the Interfaith Leadership Council of Metro Detroit.
"I think it's really important that, in our ethical directives, we tell our children, our spouses, our friends this is what we want," she said. "Go through these topics with them. We need to talk about this not at the end of life, but in life."
---
As the state's only federally designated organ donor program, Gift of Life Michigan is the intermediary between donors, their families and hospital staff. Gift of Life, in collaboration with Eversight, provides all services necessary for organ, tissue and eye donation.
Nearly 3,000 patients in Michigan are waiting for a life-saving organ transplant.
Anyone can join the Michigan Organ Donor Registry, regardless of age or health history. To sign up, visit golm.org, call 866.500.5801 or visit the Michigan Secretary of State website.